Hospital Bag Checklist: What to Pack for the Birth of Your Child
Simple comforts go a long way.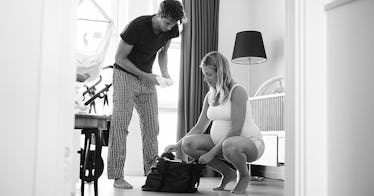 When you're preparing to have a baby, what you pack for the hospital can make a real difference in the level of comfort and calm that both parents experience. After all, if you're going to be stuck there for up to 72 hours under the most sleep-deprived, stressful, blissful conditions, there's a lot you need to be prepared for. So, it's never too early to start planning and packing that hospital bag. But what exactly do you need on your hospital bag checklist? We got the scoop from Brooke Patmor, certified birth and postpartum doula at Natural Resources, a non-profit parenting organization in San Francisco, and Cheryl K. Baker, a certified childbirth educator, founder of Los Angeles Birth Partners. They shared some suggestions a hospital bag checklist and what you actually need to have packed and ready to go to the hospital when your baby is ready to come into the world.
1. The Right Bag
"Generally speaking, usually having one main bag for you and your partner is solid," Patmor says. "A suitcase or duffel bag suffices for that." But remember, you're going to be in the hospital or birthing center for a few days, so you'll need a few different bags. "Bring a couple of changes of clothes for each of you in your suitcase. And then on top of the main bag bring one or two tote bags full of food." We're a big fan of the Aviator 40-liter roller duffel from Douchebags since it comes with customizable compartments and can be hooked to the 30-liter Hugger backpack. That way, all of your bags are easily transportable and on wheels together. And for food, nothing beats a Yeti Hopper. It's soft-sided, insulated, leak-proof, and is comfortable to carry (which you can't say of many coolers).
2. Loose Clothing for Her
"Your hospital will offer a traditional gown, but if your wife is more comfortable in her own clothes, she should bring something loose that she's not too attached to because things will get messy," says Baker. She points out that for epidurals, a hospital gown with an open back may be more convenient, although wearing an oversized cardigan backward can achieve a similar effect. There are also several companies that sell attractive, comfortable gowns online.
3. Comfortable Clothes for Him
"You have to take any opportunity to be more comfortable when it comes to labor," Patmor says. She also recommends packing slippers or some other form of house shoes for the both of you. "Bring slippers or Crocs or something," she says. "Because there should be no bare feet in the hospital. That floor is disgusting." Patmor also suggests bringing lots of layers: socks, sweatpants, and cozy jackets since hospital rooms can get chilly. Oh, bonus points if you pack swim trunks for yourself so you can jump into the shower or birthing tub with your partner if she needs you to.
4. Tools for the Birth
Bring things that make birth more comfortable and more relaxing for your partner. "These are the things that could be seen as 'extras' but make the entire experience better for everyone," Patmor says. "Bring a speaker with a playlist that you've already picked out together. Have photos from home that you and set around the room. Bring a birthing statue or a focal point that your partner can focus and meditate on during birth and a massage lotion for before and after labor.
Patmor also says that a lot of clients like to use essential oils and a diffuser for aromatherapy—anything to keep any funky smells at bay and to create a good atmosphere in the hospital. For that, we like doTerra's aromatherapy oils. Also not a bad idea — bringing along positive affirmation cards so you know what to say or cue the nurses with helpful phrases for the person birthing. "These are all unnecessary, but they're nice perks that make all the difference," Patmor says.
5. Seriously, Don't Forget the Yoga Ball
Many hospitals provide a yoga ball for women in labor, but it doesn't hurt to come with yours, just in case. Also called a birthing ball, these large, inflatable gadgets can be purchased from any sporting goods store and are Baker's top suggestion for birth gear. "They are really helpful to sit on during labor, as they open up the pelvis and relax the perineum," she says. "Most women find it more comfortable to sit on them than to lie in bed." Equally helpful: The balls can be used for a gentle rocking motion, which encourages the baby's descent. "Babies need movement to get out," says Baker. "The more you move, the easier it gets."
6. Hygiene Products
Even though hospitals are "sterile," you're going to need plenty of personal hygiene products for you and your partner. "As the father, who's going to be in the mother of his child's personal space during birth, you need to have the toothbrush and toothpaste—duh—but also gum and mints," Patmor warns. "It's so important to have fresh mouth smells around the laboring woman—who is incredibly sensitive to smells during labor." Pack your normal Dopp kit (shower essentials, deodorant, and a razor), but also pack a few extras for your partner. "The hospital will have pads and underwear but nipple cream and coconut oil are important additions to pack," Patmore says. "Any new mother will love nipple cream." (She recommends MotherLove Nipple Cream as a client fave).
Patmor also suggests having some witch hazel to put on the sanitary pads after birth, since it's soothing and healing.
7. Your Pillow
"Sometimes it's overkill but it can be great to have one of your own pillows." The hospital will provide these as well, and your wife might want to use those industrial options to tuck between her legs, or for lower-body support since they will get fluids on them. But for a soft headrest or a comforting accessory to squeeze during contractions, nothing beats a pillow from home. And don't be shy — bring yours along as well. Who knows how long you'll be waiting, and having a comfortable pillow makes camping out in a hospital chair a little more relaxing.
8. Snacks!
This is probably the most important thing you'll bring to the hospital. Pack loads of food and make it food you actually like. "That sounds funny and redundant, but if you don't like bananas, don't pack them," Patmor says. "You'll be peckish and you need to be eating frequently and be able to enjoy it and keep it down." She suggests packing nuts, seeds, fruits to munch on since they're all high in nutrients and easy to digest. What else should be in the snack tote? Coconut water and/or bone broth to replace electrolytes after labor. Plus, pack some real meals (that's where the cooler comes in.) "Bring something that you can heat up at the hospital that's hearty and easy to digest for after birth—like a stew or something because oftentimes you'll just get a cold hospital sandwich and that's not enough for what you just went through as a family," Patmor says. "I can guarantee that you'll be hungry and you deserve more than hospital food."
9. A Comforter
While you don't want to arrive for the delivery looking like those people at the airport lugging five suitcases for a weekend in Miami, you also want your wife to be as comfortable as possible. The lower her stress, the easier the delivery. To that end, pack your own soft blanket or quilt. "I did a birth last Saturday where the family brought their comforter from home and the mom was really cozy," says Baker. "The extra warmth can be nice as many women get shivers during labor, and the familiarity of being wrapped in your own blanket is reassuring."
10. Electric Candles
Now we're getting fancy. Electric candles are a favorite of Baker's because they add a warm, cozy glow without the fire hazard to an otherwise cold and sterile space. "I always carry these—and a lot of other things in my labor bag," she says. "I'm like Mary Poppins, minus the lamp." LED candles or string of lights can be really nice if the hospital doesn't have dimmers as hospital lights tend to be harsh.
11. Ginger Chews
Nausea is common during labor, but these ginger is a natural remedy that is known to help with nausea and motion sickness. Plus the chewing action stimulates saliva production, aiding with another common labor complaint: Dry mouth.
12. Hair Ties
If your wife has long hair, a handful of extra elastics to hold it back can come in handy during the hot and heavy minutes of pushing. She'll probably want to keep it out of her face during and after labor.
13. A Battery-Operated Fan
Labor is hard work, and hospital rooms can heat up in a hurry. Packing a small, portable fan lets you position the fresh air directly where your wife wants it, without taking up precious real estate. "It gets really hot and sweaty during the birthing process," says Baker. "A battery-operated fan — or even one of those handheld Japanese fans — is an easy way to take control over the climate."
14. Hot Packs
If it sounds odd to pack for hot and cold climates, welcome to the wacky world of childbirth. "A lot of my moms get the shivers during labor," says Baker. "It can be 100 degrees out, but they suddenly feel like they're freezing." Thermacare heat wraps can be applied to the lower back to ease discomfort, or your wife can squeeze them in her hands if she is cold. You can also pack a heating pad or a hot water bottle—sometimes hospitals don't have these on hand.
15. Portable Speakers
At Baker's L.A. hospital, all speakers were recently removed from rooms, so if your wife wants to give birth to the sounds of Bach, she'll have to hook it up herself. "I like the Beats Pill speaker — it's nice and small," suggests Baker. "But really, anything that will play classical or soothing music works." Baker's playlist advice: Go instrumental. "I've heard everything, including a couple that wanted to listen to the Grateful Dead during labor," she says. "But most of the time, spa-like music that's nice and relaxing is the way to go."
This article was originally published on