Homes Will Get Darker as IKEA's Trådfri Smart Lights Screw In
And it's making them compatible with Google Assistant and Amazon Alexa.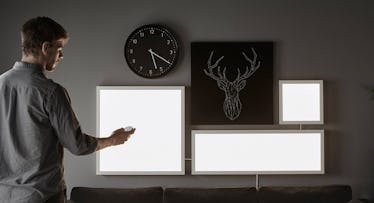 On the eighth day, IKEA said let there be darkness; and there were Trådfri light bulbs. Sweden's popular purveyor of tiny meatballs and flat-pack furniture recently unveiled a line of affordable smart home LEDs in the United States that allow homeowners to control (and dim) lights using a smartphone app or motion-sensing, wireless remote. By default, they make it easier to keep the damn lights off in rooms the kids keep bouncing in and out of. This week, the company announced that it's making those bulbs compatible with Google Assistant, Amazon Alexa, and Apple HomeKit by the fall. That means the impact on America's collective electric bill could be even bigger.
Part of IKEA's continued push into smart home technology ⏤ it introduced wireless-charging furniture in 2015 ⏤ the $80 Trådfri starter kit comes with a pair of 980 lumen LED light bulbs, a gateway router, and puck-like remote control. By connecting to the internet, the gateway creates a wireless network from which you can link and control up to 10 bulbs, panels, or illuminating doors. The dimmable bulbs feature three color temperatures (so users can adjust their warmth at the touch of a button), and they reportedly last for 25,000 hours. Additional bulbs cost around $12.
And therein lies why IKEA's decision to make the system play nicely with smart home tech from other companies ⏤ including ceiling fans, thermostats, oven knobs, etc. ⏤ is such a big deal. They're much cheaper than comparable smart lighting products on the market. And if they seamlessly integrate with other smart home devices, there's a greater chance these energy-efficient bulbs will start finding their way into more houses. Smart lights, it's fair to say, will make American homes darker ⏤ but in the very best way.