Holiday Gifts: The Best Non-Electronic, Back-to-Basics Toys This Holiday
Treat yourself to a little peace and quiet this holiday.
by Aaron Stern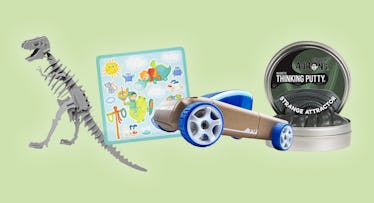 Depending on your point of view, technology is either a wonderful thing or a scourge on society. Or, if you don't like your narratives in black and white, maybe it's somewhere in the middle ⏤ to be consumed in moderation. Either way, the entire debate gets amplified tenfold when you have kids. While there's a lot to be said for the power of educational video games and musical toddler toys, there's also a strong argument for unplugging and letting kids enjoy the unlimited power of their own wild, awesomely weird imaginations. There's a stronger argument that parents just don't want to hear the same toy rawr or chirp or blink or bark for the next year.
RELATED: These Animated E-Cards Are the Perfect Holiday Gift for Dad
And to help them do just that ⏤ not to mention minimize their screen time and let you fold the laundry in blessed quiet peace ⏤ we've rounded up awesome non-electronic, tech-free, back-to-basics toys to give your kids this holiday. From dinosaur puzzles and scientific silly putty, to wooden cars and window stickers, there's something here to keep kids of all ages busy, as well as help them develop motor skills and smarts. Best part: Giving one of these quiet toys is almost as good as buying yourself a holiday gift.
Sprig Toys Adventure Scuba Search Playset
Stout figurine/scuba diver Willie Ocean is the centerpiece and hero of this playset, primed for action on land or in the tub. Part of an interchangeable lineup of toys made out of a composite of recycled wood and plastic, Willie comes with a diving mask, flippers, an oxygen tank, and a dinghy. He makes a great holiday gift.
Sago Mini Road Trip Collection
Foster a sense of adventure and/or love for Oscar Meyer wieners in your little ones with this set that includes a fire engine, an ice cream truck, and a (veggie) hotdog car, not to mention a robot, penguin, raccoon, and dog to pilot them. The new vehicles/figures are compatible with Sago Mini's other playsets and come with the appropriate accessories like ketchup, mustard, and an ice cream cone.
What's great about Crazy Aaron's brainier Thinking Putty is that it does way more than stretch, stick, and bounce. As in, it also makes crazy effects (cosmic, glowing, liquid glass, etc.) and is reactant: shine UV rays on one and it will actually move toward the light. There are more than 50 colors of this silicone rubber to choose from, including glitter-infused and metallic variations. The 'liquid glass' version clouds when you handle it, then goes transparent again when you put it down. We can't think of a better holiday gift.
Boneyard Pets 3D Dinosaur Puzzle
Set your kid on the path to a lucrative career in paleontology — or at least give them some knowledge of dino physiology for when scientists inevitably make the creatures walk the earth again — with Boneyard Pets constructible T-Rex skeleton puzzle. There are different models and sizes available, all recommended for kids ages seven and up. Dinosaur obsessions recommended.
Soft'n Slo Squishies
Proof there is truth in advertising, these toys are indeed soft and slowly uncrumple back to their original shape after you squish them. Which you will do, because they are irresistibly smashable and mashable. (Essentially, they've turned stress balls into toys.) There are an insane number of these palm-sized toys on the market from an equally insane number of companies; most of them are foods, from fries and tacos to ice cream cones and bundt cakes.
Goddess Power Tower
Each of these stackable blocks tells, in poem form, the tale of iconic female figures in Hindu mythology, with the largest block focusing on Mahadevi, a mom-like blend of warrior, teacher, and nurturer. Meant for ages one and up, this holiday gift will simultaneously help develop your kids' motor skills and respect for women.
Automoblox Wood Cars
Made from beechwood and styled like the concept cars of auto magazine dreams, each Automoblox comes with a driver and features mix-and-match interchangeable parts ⏤ low-profile wheels, Brembo brake assemblies, etc. ⏤ so they can be customized.
Green Toys Fire Truck
Introduce your kid to the finer points of firefighting and environmental protection with this stout fire engine made completely from recycled plastic milk cartons. There's a pivoting roof-mounted ladder as well as two removable side ladders to help Junior put out all of the imaginary blazes in the living room. Meanwhile, you can rest easy in the knowledge that no trees were killed in the making of this holiday gift.
Haba Window Stickers
These are removable window stickers that can easily be peeled off and reapplied to decorate all the windows in your home, many times over. What more do you need to know?
Tubelox Life-Size Building Toys
Long before STEM was a thing, Maria Montessori famously observed that play is the child's work. Tubelox let kids use large interlocking pipes, connectors, and flat surfaces to do their jobs. Or, at least, to bring their imaginations to life through practical engineering while building everything from chairs and tables, to forts and carts.
This article was originally published on