Holiday Gifts: The Best R/C Cars, Drones, and Monster Trucks
Remote-controlled vehicles have come a long way since you were a kid.
by Aaron Miller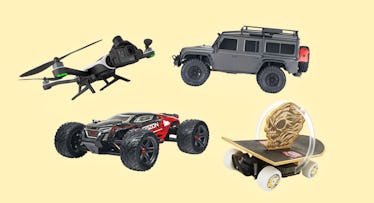 It used to be that remote-controlled toys went forward and reverse. If you were lucky, they turned around. They almost always flipped over if you hit a rock. To say their capabilities were limited was an understatement. Sure, R/C cars were fun, but that fun didn't last long.
RELATED: The 50 Best Holiday Gifts Under $50
Now? Remote-controlled toys (and smartphone-controlled toys) ⏤ be they cars, trucks, boats, or drones ⏤ are fully interactive, voice-activated, and even out drag-race a million-dollar supercar. As in a real car. But which ones will your kids most enjoy ripping the wrapping paper off this season? Here are the best R/C car, drone, and monster truck holiday gifts this season.
Justice League Ultimate Batmobile R/C Vehicle & Figure
There's a freaking camera in the cockpit of this badass Batmobile that syncs to a phone via Wi-Fi and gives you, er, your kid a real-time POV of the action from up to 65-feet away. The turrets on the hood? Yeah, they move via remote control. The whole vehicle raises up in a "jump mode" for better aim, too. Onboard speakers create "authentic" sound effects, and as if to underscore that this truly is the Ultimate Batmobile on the market, the tailpipes actually spew smoke.
A classic Land Rover is undeniably awesome in a rugged, timeless, go-anywhere sort of way. There's even a cottage industry supporting their high-end restoration. The same could almost be said of this Traxxis scale Land Rover, which comes complete with actual shock absorbers, real locking front and rear differentials, and a host of other goodies that make it, pound-for-pound, just as good as the real deal.
These officially licensed Star Wars Battle Quad Drones use a "patent-pending reverse propulsion system with invisible blades" so when it makes the jump to lightspeed — or at least goes from 0 to 30 mph in 3 seconds — it actually looks like the Millennium Falcon screaming past the basketball goal. They boast a top speed of around 35 mph, a range of 200 feet, and come in four classic styles: X-Wing Fighter, the Falcon, Darth Vader's TIE Fighter, and the Scout Trooper speeder bikes from Endor. Coolest part, though, has to be the integrated laser tag. The remote control keeps tabs on shots, hits, and kills so you can fight real aerial battles.
The most incredible thing about this R/C Lightning McQueen isn't that it's controlled via an app on your phone, but rather everything the app controls. The eyes in the windshield move, and the suspension not only moves, it can replicate the exaggerated expressions of the cartoon version. The mouth even moves when the McQueen speaks. Oh, and by the way, McQueen speaks. Over 300 different phrases. A single charge is good for up to 40 minutes of fun, and when the batteries do drain, it takes just an hour of charging until it's ready for your kid's turn.
Traxxas XO-1 AWD Supercar
This is a bonafide, 100-mph remote-controlled car. Zero to 60 mph? 2.3 seconds. That's faster than a Dodge Challenger Hellcat, a Tesla Model S in Ludicrous mode and, well, virtually anything else you're likely to come across on the street. Granted, this isn't exactly baby's first R/C car, but if your kid has graduated from some of the toys out there, you'll be pretty hard pressed to top this one.
Sturmkind Dr!ft Racers
Take a model car not much larger than a Hot Wheels, turn it into an R/C car that's controlled by an app, then make sure it's an easy to use drift king that can make anyone look like a 1:43 scale Ken Block and you get the general idea behind Sturmkind's Dr!ft Racer is a new app-controlled 1:43 scale German race car with intelligent sensors that "drives with same dynamics as real cars." That means it drifts, spins, oversteers, tilts, and does celebratory donuts in the exact same way a car roaring around the track at Daytona would. Fair warning, though: Since you have no choice but to order it from Europe, it's not the easiest holiday gift to get your hands on. At over $230, it's not exactly cheapest either. That said, pull it off and son or daughter will likely be the only kid in school to have one.
ARRMA Fazon 6S BLX
Need is a relative word. For example, you may not think your child "needs" an R/C car holiday gift that costs $650, climbs rocks, blasts across open fields at up to 60 mph, features independently-sprung suspension and offers a quartet of driving modes more complex than your sedate family sedan. However, when you realize that this is exactly the kind of hardcore, professional-grade R/C you would've traded every single remote-controlled RadioShack toy you had as a kid to get your hands on, you'll realize just how badly you need this in your life. For the children, of course.
Axial RR10 Bomber
The RR10 Bomber from Axial is a realistic, remote-controlled replica of a high-performance, off-road rock-racing car (the Bomber Fab KOH) driven by two-time "King of the Hammers" rock racing champion, Randy Slawson. Technically, it's designed for people who compete in professional-level R/C offroad racing but absolutely no reason why you our your kid should take it for a spin over your neighbor's flower bed. It's 22-inches long and weighs six pounds, has a remote-controlled clutch for the transmission, and heavy-duty driveshafts and suspension.
Spinmaster's 9-inch-tall Hero Droid BB-8 follows voice commands, can move in any direction, and features an onboard motion sensor. Not only that, but it boasts authentic lights and sound effects. It includes a handheld remote control but call its name and it'll follow you around the garage while you work on your X-Wing fighter. It's a great holiday gift for any Star Wars fan.
Air Hogs Hyper Drift Drone
In one glorious stroke of genius, Air Hogs has designed a 2-in-1 airboat that's propelled by a detachable drone. So not only can it scream across the living room floor but, once the propeller is popped off (be it on purpose or as the result of a crash) it can lift off and fly through the rest of the house.
XPV Xtreme Performance Remote Control Skateboard
For the kid who loves the X Games, the XTreme Performance R/C Skateboard is designed with stunts in mind. It "drives" at a top speed of 14 mph, which is roughly on par for an average human skateboarder, and its sharp steering angle allows it to "drift." More importantly, it's virtually indestructible. Run it off of ramps or jump it along a pool wall and it simply lands upright and ready to roll on to the next adventure. Better still, it only costs $30.
GoPro Karma is a drone designed specifically to fit a GoPro camera. It's programmed to handle its own take-offs and landings, features various controls for the camera itself, and through what it calls the "Passenger App," you can even have someone else control the camera with a phone while you concentrate on having fun flying the drone. Best of all, it's still a GoPro, so even if you do slam it into a tree/fence/neighbor's skylights, the video's still going to turn out great. It's an awesome holiday gift.
This article was originally published on