Holiday Gifts: The 11 Best Building Blocks And Construction Toys
Not just another brick in the wall.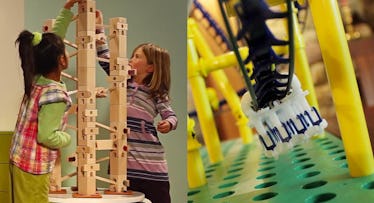 It used to be that when a toddler graduated from good ol' wooden blocks, they moved on to one of a few tried-and-true replacements: Legos, Lincoln Logs, Tinker Toys — you know the list. Today, there are as many types of specialized building blocks and construction toys as there are aspiring engineers to play with them. "Oh wait, your 5-year-old wants to be an architect, not a structural engineer? Gotcha. Then they should definitely try these." To help narrow down which kit is best for your young Frank Gehry this holiday season, here are the building blocks and construction toys that make great holiday gifts.
Flybrix's "crash-friendly" DIY LEGO drone kits come with everything needed to launch a 4-, 6-, or 8-propeller drone with limited aviation knowledge and no tools, making it the perfect holiday gift. But, you're more than welcome to help your kids out if you want. The Legos, propellers, motors, circuit board, even the pilot are in the box; just plug and play. You can even use the bricks already scattered around the house to build a giant jumbo drone and/or finally get that LEGO Millennium Falcon off the ground and on its way to Alderaan.
One of those innovations you're surprised hasn't existed for ages, Flexo's a set of traditional Lego-compatible construction bricks that are connected by flexible elastic tendons and boast "a full range of movement, from flat to 180 degrees." They were designed by a dude in New Zealand as more of an add-on to your kid's existing brick collection, which makes them a great holiday gift, but each kit includes both tendons (in 4 sizes of varying flexibility) and bricks, so you don't technically need anything else. That said, unless you just want to build a catapult or a swing bridge, you're probably going to want to have some other blocks around.
Having already mastered the art of creating miniature working replicas of iconic amusement rides, the good folks at CoasterDynamix are on to a new challenge: turning those models into LEGO-compatible, brick-based construction toys. First up, Coney Island's famous Cyclone. The 1,000-piece kit (targeted at ages 14+) includes the track, the train, and a hand-crank chain lift to make that sucker move (although it works with Lego Power Functions like motors and batteries too, if your fingers get tired). It measures about 4 feet in length and can be combined with multiple kits into one giant badass coaster.
Named after the 20-sided geometric shape, which you probably know as an icosahedron, Ikos is like a modular, three-dimensional jigsaw puzzle. It's comprised of 26 identical recycled plastic pieces that snap together to form a perfect sphere. But, since nobody wants to build a ball over and over, this holiday gift also interlocks in endless combinations of designs so kids (ages 6+) can get creative and make 3D "art." In the process they'll purportedly learn about spatial relations, problem-solving, and what the hell an icosahedron is.
Essentially, Edo Bricks are giant cardboard Legos that kids can use to build everything from castles to cars. The eco-friendly recycled pieces are sold flat like regular boxes, but are easy enough for your 10-year-old to figure out how to assemble and interlock. They come in three sizes (single, double, and connector) and a host of colors, boast a rewritable surface, and can be decorated with add-on features like animal eyes, ears, or glasses. The only downside seems to be that your living room will probably look like an Amazon fulfillment center.
Brik Tile
Brik Tiles are 10-inch x 10-inch plates that let your kids cover their walls with Legos. And not only can they change their new "wallpaper" pattern on a whim (as they're wont to do), but you don't have to break out the paint thinner and putty knife to make it happen. Each tile has an adhesive back that can be reused multiple times and stuck on everything from the fridge to the toilet (for target practice, of course).
GoBrix
GoBrix by ThinkGeek are remote-controlled building bricks with simple motors designed to bring compatible toys (Lego, K'Nex, KRE-O, and Mega Blox, for example) to life. They keep it simple: a tiny motor inside a brick, into which you can insert wheel axles, robot arms, or whatever you want to move, easily activated by a push-button remote. And yes, the remote is also LEGO-compatible, so you could snap together a remote-control remote in what would be one of the more gratuitous dad jokes anyone could make using only Lego. Even better, they're pretty damn inexpensive — an important consideration in any holiday gift.
Brixo are curiously Lego-like construction blocks (sorry, "Lego-compatible") that provide the electricity to animate your kid's Brickenstein. They're painted in shiny, non-toxic chrome and powered by built-in, low-voltage batteries. Connector Blocks form wire-free circuits into which Action Blocks are embedded to deliver LED light or motorized movements. Trigger Blocks are added to activate said movements via light, sound, and motion sensors. When combined with the King Of All Bricks, Brixo makes helicopter rotors spin, fire engines light up, sharks shoot frickin' lasers — anything you can think of to make those Legos come alive. All while you amuse yourself by refusing to give your kid instructions beyond, "Just be 'bout that Action, Blocks."
Xyloba
Xyloba matches construction with music but forgoes the brick people singing about how awesome everything is. Instead, modular, interlocking wooden blocks, ramps, and tone bars form marble runs that produce different melodies as the marble strikes the chimes. The holiday gift has three complexity levels, and kits with instructions for playing specific songs. But, since everything is interchangeable you can give your kid anything and let them build until you can't take any more glockenspiel.
LuxBlox
Designed to encourage creativity and "light the imagination" ("Lux" means "light" in Latin, duh.), these plastic pieces connect using a "patent-pending snap-and-lock hinge system" that emulates "nature's construction principles." They let your kid create structures that bend, turn, curve, and twist — shouting is optional. They're also billed as "the principled block," so you know they won't change their vote if/when you apply pressure. What your kids build is obviously limited to their ability to think outside the block, but examples provided range from a starfighter and dollhouse furniture, to a capillarion (a noisy collapsible machine, apparently) and a D'Arcy crab, which is "a six-legged creature with working joints that can grab things." Scary.
Tegu
They're wooden blocks. With magnets. That's it … almost. Tegu kits promote every developmental stage, from classic free assortments to horses, stunt choppers, Evel Knievel roadsters, robots, customizable companions called Blockheads, and on-the-go pouches. And they're do-gooders — their wood is hand-picked by Honduran cooperatives and they plant 983 new trees for every one they take. Do you do all that, alphabet blocks? No, you do not. What an awesome holiday gift.
This article was originally published on