7 High-Tech Gadgets to Up Your Grilling Game
BBQ expert Chris Hicks shares his favorite grilling gear.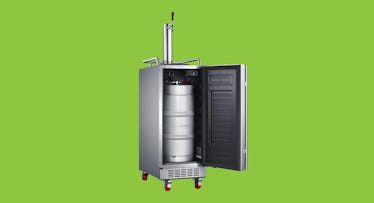 Chris Hicks started as just another Texan into barbecue. In between trips with friends to Central Texas, the state's grilling mecca, the 37-year-old Houston native spent his time tinkering with his smoker and perfecting a few, choice recipes. It wasn't until his wife Holly accepted a job offer in Nashville, Tennessee, however, that Hicks decided to take his passion to the next level. "My buddies were like, dude, if you don't kick it up a notch and take it seriously when you get there, we're going to kick your ass," he says.
Hicks didn't let them down. After arriving in Tennessee, he and his wife launched The Oak Texas, a smoked meats catering company that grills at some of the city's best breweries. Fatherly recently caught up with Hicks to chat all things BBQ, but more specifically, to get his picks for the best grilling accessories ⏤ from Bluetooth thermometers to high-tech pellet grills ⏤ to help up your grilling game.
Traeger Timberline 1300 Pellet Grill
Fact: Traeger believes so much in the phrase "set it and forget it" that the company made it its motto. Its offerings, which include the new Timberline 1300, are sometimes disparaged by grilling aficionados because of how easy they make perfect backyard grilling. All we care about, however, is how the meat turns out. Engineered with a five-degree temperature swing from 165 to 500 degrees, the Timberline is incredibly precise regardless of where the meat is positioned on the grill. An integrated wifi app provides even more control, allowing you to set timers and temps from across the room. The wood pellets, which leave a delicious, smoky taste, are easier, cleaner, and more compact than traditional whole-wood options.
Meater Wireless Thermometer
Meater is a wireless, Bluetooth-enabled meat thermometer that you pop into your steak and then monitor from afar. Simply insert the thermometer and select your cut of meat and desired temperature on the app, which will alert you when it's cooked. It even offers a resting time after you remove your meal from heat. Foolproof.
Looftlighter
If the idea of dousing your charcoal with lighter fluid before cooking seems suspect, we agree — and so do the folks at Looftlighter. This hairdryer-like gadget ignites briquettes or lump charcoal in about 60 seconds using superheated air.
Man Law BBQ Grill Light
Twelve LED lights on a two-foot adjustable neck allow grillmasters to shine light exactly where they need it ⏤ and without getting in the way. It attaches to the grill with a magnet-and-screw combo, and thanks to its modest price tag, you can keep the kitchen open all night.
EdgeStar 15-Inch Built-In Outdoor Kegerator
Yes, an outdoor kegerator is extravagant. But for those who take grilling and drinking beer as one and the same, the 15-Inch from EdgeStar is the backyard partner of your dreams. It has a rugged, weatherproof exterior and a digital display that clearly shows the temp of your pony keg's contents.
Williams Sonoma Stainless-Steel Handled BBQ Tongs
A good pair of tongs is priceless. William Sonoma's BBQ Tongs' grip using scalloped blades that secure without cutting into the meat or veggies. Bonus: Their foot-and-a-half length meant fingers never come close to the heat.
Manready Mercantile All-in-One Pinch + Throw Meat Spice
Okay, so not high tech or a gadget but Houston-based Manready Mercantile's All-in-One Pinch + Throw Meat Spice is grilling gamechanger. It's a combo of black and red cayenne peppers, kosher salt, and smoked paprika (plus a few other spices), and it's perfect on beef, chicken, pork, fish, shellfish ⏤ well, pretty much any meat you can grill.
Every product on Fatherly is independently selected by our editors, writers, and experts. If you click a link on our site and buy something, we may earn an affiliate commission.
This article was originally published on