Here's Your First Look At Lego's New Kessel Run Millenium Falcon
But can all 1,414 pieces make it in less than 12 parsecs?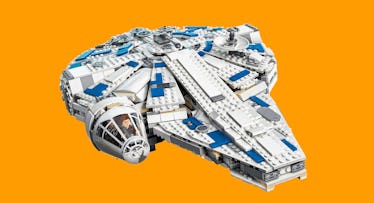 LEGO
While Solo: A Star Wars Story has gone through a troubled production and an oddly quiet marketing campaign, the newest film in Disney's revamped Star Wars universe is still set to arrive in theaters on May 25. And with any new Star Wars film comes new Lego sets. After Solo's Super Bowl trailer teased a pristine, intact Millennium Falcon, Lego has officially announced its new tie-in set: the Kessel Run Millennium Falcon.
Based on a younger, hipper Han Solo's younger, hipper smuggling vehicle, Lego's Kessel Run Millennium Falcon comes with mini-figs for Solo, Chewbacca, and Lando Calrissian, along with two new characters in the film, Emilia Clarke's Qi'ra, and a Kessel droid, as well as two other characters that Lego and Disney are keeping under wraps at this time. It has pivoting laser turrets, a blue-speckled exterior, and, we assume, a lot of tricks up its metal sleeve.
The announcement doesn't give any look at the Falcon's sparkling interior, so you might have to wait until April to build it out for yourself. Made up of 1,414 pieces, the Kessel Run Millennium Falcon still doesn't even come close to beating out the brick-count of Lego's last take on the spaceship, which came with a whopping 7,541 pieces.
Lego's Kessel Run Millennium Falcon will be available this April for $170.
This article was originally published on