The Hatch Baby Rest Plus Is a Stellar Baby Monitor, Night Light and Sleep Trainer
It's pure sleep-inducing magic.
by Donna Freydkin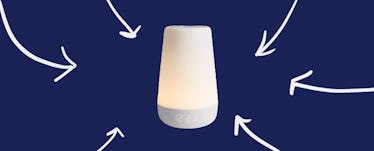 If I could do a celebratory tequila shot with the new Hatch Baby Rest Plus night light, sound machine, and baby monitor, I would. Hell, I'd take it out for a whole bar crawl. Because after eight years of sleep deprivation, I've finally gotten my sleep back. It's the best all-in-one sound machine, baby monitor, alarm clock, and sleep training clock on the market. Actually, make that the only one of its kind. The Hatch Baby Plus' unique trick? Its grows with your kid.
Parents with babies can use the baby monitor functionality to listen to their kids, plus the white noise and night light to help infants fall asleep.
With toddlers, parents can set up specific times (that the brand calls programs) that kids need to wake up, nap, and go to bed, to minimize any anxiety related to transitions. And they also learn when it's OK to get out of bed, and when it's time to hit the sack.
Older kids get a comforting light with customizable colors, plus the ability to always know what time it is and be notified when it's time to sleep and time to get up. And if you feel the need to check in on your kid, there's a two-way audio monitor you can access from your phone that lets you talk your kid. Which is also highly helpful during room-trashing playdates when you need to shock kids into cleaning up after themselves.
There are some limitations to the functions. Let's be clear: The monitor is not a fancy baby monitor, with its overabundance of information and an HD screen that lets you watch your child's every movement. It's audio-only. And the sound machine doesn't play your own, or any music, like many sound machines do. You just get the pre-programmed tracks.
But it's got all the basics on lock, and, since it's Alexa-enabled, it can follow voice commands, too.
Besides, it has plenty of frills on its own: You control the device from a very user-friendly no-frills app that you download. And because the Hatch Plus can be plugged in or run on batteries, it's also fully portable. It has a toddler lock to prevent kids from messing with it. The battery is rechargeable and parents can customize color, brightness, sound and volume, plus set up their own sound and light combos. The time is displayed on the side, and means kids can see precisely how late, or early, it is.
For once, time really is on your side.
Every product on Fatherly is independently selected by our editors, writers, and experts. If you click a link on our site and buy something, we may earn an affiliate commission.
This article was originally published on