The FurReal Shaggy Shawn Is the Perfect Gift for Wannabe Barbers
Shaggy Shawn comes with clippers and makes sounds when you pet him. What else does a kid need?
by Dave Baldwin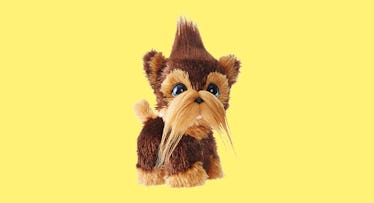 For as uncelebrated as pet groomer is as a profession in the real world, it's practically akin to an astronaut when it comes to toys. Every popular doll company ⏤ from Barbie to American Girl to Journey Girls ⏤ has a pet grooming character or accessory set. Most are targeted to girls and include a female doll and their ubiquity, no doubt, has to do with the fact kids love animals. Only the last part makes any sense. Hasbro, on the other hand, is going in a more gender neutral direction with pet grooming this year. Meet Shaggy Shawn, he's a stylish Yorkie FurReal with a dapper handlebar mustache in need of wax.
Playing into the current 'pretend pet' trend for kids (no, it's not all dinosaurs and poop toys this year), Shaggy is essentially a trendy dog in search of a good barber. He comes with a set of electric shears that buzz and vibrate but don't actually cut anything and a full head/face full of fur that's waiting to be styled. In fact Shawn is like Johnny Weir as, per the website, he "loves trying out fun, silly, and imaginative hairstyles." And it's up to kids, using the styling accessory and clippers, to send him off into the world with confidence. Faux-hawks, comeovers, waxed mustaches, they can do it all.
In addition to getting his locks cut, Shawn also enjoys being petted and/or having his head rubbed. Like other FurReals, he's battery powered (three watch batteries), and makes puppy sounds when he's happy. He's targeted to kids 4-years-old and is available online for $25, although he's currently on sale at Toys 'R' Us for $19.
This article was originally published on