A Harry Potter Version of "Pokemon Go" Is Coming to a Phone Near You
People across the world just got one step closer to receiving a Hogwarts letter.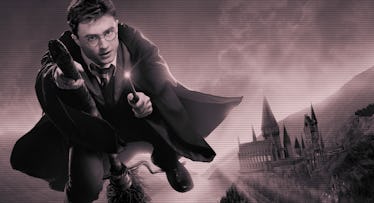 Warner Bros.
Pokémon Go, the augmented reality smartphone game that took the world by storm and worked "I found a Charizard!" into the parenting vernacular, is getting a cousin in arms. The creators behind the Pokémon installment just confirmed that they will be releasing Harry Potter: Wizards Unite, a Wizarding World version of the game that will surely psych up Potterites who want to track down virtual broomsticks and Horcruxes around their neighborhoods.
Not much is known about the new game yet, except for the fact that it'll utilize the same AR technology that powered Pokémon Go, created by Niantic Labs.
Pokémon Go was a smash hit upon its release in 2016. It broke the App Store record for first-week downloads, and estimates suggest that in the first week of its release, it was earning the Niantic two million dollars per day. It also spawned thousands of pop-up events and fervor among fans hoping to catch them all. It was also responsible for a lot of distracted Pokémon hunters walking into walls.
If the success of Pokemon Go is any indication, Harry Potter: Wizards Unite will likely surpass similar milestones and have millions of people walking around the streets of their cities, phones in hand, engaging in wizarding duels and searching for adventures. (Hopefully, the gamers don't go into the third-floor corridor on the right-hand side.) After all, with Fantastic Beasts ramping up to be a lucrative and fun movie series, and Harry Potter merchandising expanding rapidly, the mania won't disapparate. The game is expected to release in 2018.
This article was originally published on