The Best Harry Potter Toys & Games Any Muggle Will Love
Wands! Games! Magical creatures!
by Briana Haas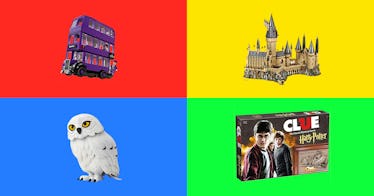 The seven books that make up the Harry Potter canon remain beloved for a reason: They transport young (and older) readers into a fully-formed magical universe that's astoundingly heavy on realism. And the books' messages of tolerance, acceptance, and loyalty are all things we can get behind. These are the best Harry Potter toys that bring J.K. Rowling's stories to life, whether you have a child just discovering the Chamber of Secrets, or if you are personally invested in what happens at Hogwarts.
xpelliarmus." tracking="fatherly-harrypotter-20"]
You get a fancy ankle length black fleece costume robe with burgundy lining, and it's embroidered Gryffindor House crest. " tracking="fatherly-harrypotter-20"]
Every product on Fatherly is independently selected by our editors, writers, and experts. If you click a link on our site and buy something, we may earn an affiliate commission.
This article was originally published on