The Breville Smoking Gun Lets Me Make A Show Out of Snack Time
Want to make some mesquite popcorn for the kids? A cherry-smoked old fashioned for yourself? The Breville Smoking Gun is the gadget for you, my friend.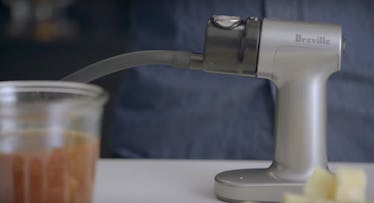 Good barbecue requires many things, but one ingredient ranks above the rest: time. As much as I'd like to spend 12 hours babysitting some pork shoulder, brisket, or beef ribs until they've been rendered fall-apart-tender by heat and hickory smoke, my schedule, space constraints, and some not-so-fun city ordinances make this impossible. Now, I'm not a man with many extravagances, but I friggin' love cooking barbecue. Like, let's-elope-in-Vegas-with-an-Elvis-officiant sort of love. More so, I love the taste, smell, and Saturday religion of wood-smoked foods. Sufficed to say, my situation made me a bit bummed.
While in mourning for the high-stacked brisket sandwiches, a friend brought over the Breville Smoking Gun. A culinary tool used by chefs in high-end kitchens, it's used to infuse foods (and evoke oohs and aahs from guests) with smoke quickly and efficiently. After seeing it in action, I picked one up. Dear reader, my kitchen life has never been the same.
I wouldn't blame you for thinking the Breville Smoking Gun was created by Willie Nelson's road crew. A small silver-and-black contraption with a rubber hose, trigger, and little chamber, it looks like the one-hitter of the future. Instead, you place a pinch of wood chips in that chamber, place the hose over food or drink that's sealed with a lid, with some saran wrap, or in a Ziploc bag, light the kindling, and watch the smoke spill out and cover your food.
My first night with the Breville Smoking Gun, I may or may not have set the fire alarm off finishing some oven-roasted baby backs in a fog of hickory. After the smoke settled, I dug in: They were baked ribs, yes, but the smoke gave them a subtle, just-out-of-the-smoker feeling. I knew it wasn't the real thing, but give me the blue pill Morpheus! Of course, nothing could replace that true all day vibe of actually smoking and the gun is a different instrument entirely, but it lets me pretend I'm doing it.
And, whoo baby, this thing is not meant for meat alone. Want to smoke some table salt? Give some movie night popcorn a bit of mesquite at the last minute? Pipe in a steam of hickory into your made-in-the-blender tomato soup? Have at it. All the food needs is a few minutes spent covered in the smoke to get a nice finish.
And did I say food? Because the best part of the Smoking Gun may be its ability to add another level to cocktails. Hosting a poker night or backyard barbecue? Add some smoke to your Bloody Marys. I recently bought a little pack of cherry smoking chips and use them to make cherry smoked Old Fashioneds when my buddies are over. Want a fancy cocktail that doesn't take much (or involve bartenders in bowler hats and suspenders)? Try that.
Now, as you can tell, I really love this thing. The biggest: while the parts are dishwasher safe, they are a bit of a pain to clean — especially the hose, which tends to get a little gunky. And, at $100, it's a little pricey for something that's nothing more than a showy extravagance. [It should be noted that Breville recently released an updated model of the Smoking Gun; the one I own is the first edition.]
But what a show it puts on. The Breville Smoking Gun adds some flair to everything from family movie snacks to signature nightcaps. When I finally have space for a smoker, I'll still get plenty of use out of it.
This article was originally published on