Hand Sanitizer Shopping Is Stressful. This Subscription Box Makes It Easy.
No more running around for off-brand, too-small bottles of sticky alcohol.
by Lilian Ogbuefi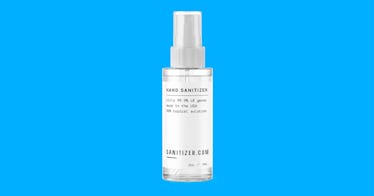 The coronavirus swept into our lives and almost immediately swept the grocery aisles clear of whatever coronavirus had made suddenly indispensable — hand sanitizer, disinfectant, and toilet paper were suddenly as scarce as haircuts. In their stead, strange new products emerged. Toilet paper became less luxurious. Face masks edged their way into grocery aisles. And dozens of random hand-sanitizer brands set up shop online — so many that the FDA published a list of "59 hand sanitizers to avoid," following reports of skin damage and toxic ingredients like methanol. Methanol poisoning can cause headaches, nausea and dizziness, blindness, and, in some cases, kill you.
There's no better antidote to the kind of panic shopping and hoarding that causes scarcity in the first place than the promise of a reliable consistent supply. This hand sanitizer subscription service has got your back — or in this case, hands.
Sanitizer.com is a monthly subscription service that delivers non-toxic sanitizer at non-gougey prices. For $7/month, you get one bottle of sanitizing spray delivered each month, and for $20, you get a monthly pack of three. And you won't have to wait until Thanksgiving to get your first set — orders are processed and on their way in a day or two.
Sanitizer.com products use a certified vegan, alcohol-based formula that's fast-acting and contains glycerol to help moisturize as it kills germs; they're also methanol-free and compliant with WHO Standards. And they can be used effectively on your hands or on surfaces.
Another great set-it-and-forget-it alternative is Cratejoy's monthly subscription. Cratejoy's jam is subscription boxes more generally, and its hand sanitizer is certainly less bougey and doesn't smell as nice, but it'll get the job done.
Every product on Fatherly is independently selected by our editors, writers, and experts. If you click a link on our site and buy something, we may earn an affiliate commission.