The Best Kids' Halloween Costumes
From Fortnite to unicorns, there's a get-up here for everyone.
by Donna Freydkin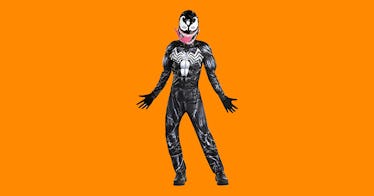 Kids' Halloween costumes are an industry onto themselves. The best kids Halloween costumes help kids jump into a world of make-believe and fun for a night — obviously fueled by Halloween candy. They sell out faster than you can say candy corn. In fact, kids generally start planning next year's ensemble once they're done trick-or-treating for the night. That's why, if you're a good parent, and you want to get the best Halloween costumes for kids, you have to start planning early and get your shopping strategy in place. Going to the Party City the night before Halloween just won't cut it for some of these costumes, as most kids Halloween costumes are bought and sold well before the spookiest day of the year.
For kids, Halloween is the Super Bowl of sugar, the World Cup of dress-up. And the most coveted, best kids costumes disappear quicker than a fully-loaded bag of candy. That's why we started our list early, so you won't be the loser parent who has to paint a cardboard box and pretend it's a Minecraft figure or the parent who retrofits a superhero costume into a Fortnite get-up.
Every product on Fatherly is independently selected by our editors, writers, and experts. If you click a link on our site and buy something, we may earn an affiliate commission.