This Backpack-Sized Sea Scooter Is Going to Make Your Entire Summer
The H2 Aqua Jet Dive sticks it to the Sea Doo.
by Dave Baldwin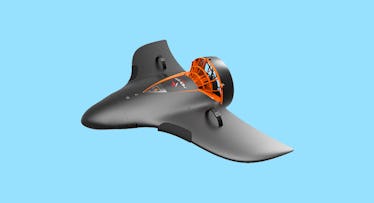 Jet skis. Paddleboards. Catamarans: There's no shortage of water toys adults can enjoy at the beach or lake while their kids play in the sand. The problem, of course, is that they're usually a pain to own/transport and they cost a ton to rent ⏤ who wants to drop $250 a day on a SeaDoo or a Hobie Cat? And that's where the H2 AquaJet swims in: It's a high-octane, recreational sea scooter that zips around on or under the water and packs up into a backpack.
At first glance, the H2 looks like a vehicle Navy Seals use when they're setting explosives underwater ⏤ or a motorized manta ray. It's essentially a diver propulsion vehicle (DPV) with airplane wings to help glide through the water, and it's designed as much for serious divers as is for recreational beachgoers looking for a good time. Its battery-powered motor has a thrust of up to 40 pounds, runs for over an hour-and-a-half (on a three-hour quick charge), and can hit a top speed of 5.6 mph. Although, it comes with three-speed settings to ensure nobody gets too carried away. (It's designed for riders 16-years-old and up.) It employs five integrated alarms to keep riders safe and the anti-blocking motor and propellor ⏤ which are tucked behind multiple protective grills ⏤ switch off if an object gets stuck.
Steering the 30-pound H2 is as easy as tilting the wings ⏤ simply lean left or right to change direction ⏤ and speed/acceleration are controlled by two switches on the wings. The left-hand switch handles acceleration while the right-hand controls speed. For serious divers, it can hit depths of 60 feet deep. You never have to ever worry about losing it, as it rocks both a wrist strap and features adjustable buoyancy (based on your targeted depth), so it'll float back to the surface. It's also got a built-in GoPro mount so you can post all that sweet underwater vacation footage to social media.
And at the end of the day, the H2 easily disassembles and fits right into the accompanying backpack. So there's no need to load up a trailer or strap anything to the car roof. While the Aqua Jet is currently a Kickstarter, it's one that's both fully funded and ready to deliver. In fact, there's not a long wait time on it, as they start shipping in July so you can take full advantage this summer. Even better, they're currently offering a half-price deal and selling the H2 for $799. Which still may seem like a lot until you add up all those SeaDoo rentals.
This article was originally published on