Glowy Zoey Is Halloween Costume That Turns Your Kid Into A Light-Up Stick Figure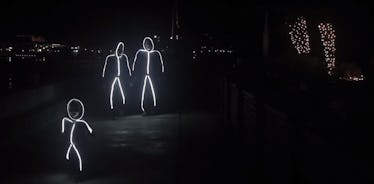 YouTube / Glowy Zoey
Back in your day, homemade Halloween costumes were mostly a way to get bullied while making use of extra sheets and corn syrup around the house. Now they're a creative way for parents to go viral while launching a side business. At least, that's what happened with Royce Hutain, a father, snowboarder, and most recently, the founder and CEO of Glowy Zoey: The Halloween costume that will turn your kid into the STEM-iest stick figure on the block.
While brainstorming costume ideas for his 2-year old daughter Zoey, Hutain remembered he had a lot of leftover materials from making stickman suits for a snowboarding outing. Then he had a lightbulb moment — or an LED one — and decided to make one for his daughter. After capturing a short clip of the results (to brag to his fellow parents), the suit went viral and appeared on Good Morning America and Jimmy Kimmel Live. Now over 23 millions views later, Glowy Zoey is still making stick figures so much cooler than they are on paper.
The suits currently come in 3 sizes, toddler ($69.99), kid's ($79.99), and adult ($99), which will be quite slimming after eating all of your kid's candy. According to the website, costumes come in 2 parts with "everything you need," including LED attachment straps and the LED light set, battery box, and controller. All you need is 8 AA batteries (or a rechargeable one from the site) and you'll be ready for Halloween or your first baby rave. Whichever comes first.
This article was originally published on