This Bald Tickle Me Elmo Is an Absolute Nightmare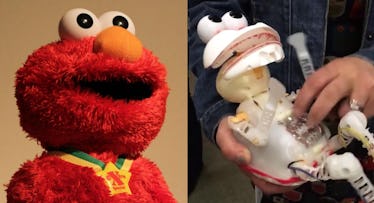 Flickr / MIKI Yoshihito | YouTube
Elmo's original name was "Baby Monster" because the makers probably saw the little guy without hair, which is actually terrifying. The footage of a skinless Tickle Me Elmo doll comes from the Science Mobile team at the Canada Science and Technology Museum, who were testing experiments for a summer camp program for Ottawa children. Because what kid doesn't want to see what their furry friend would look like if he was kidnapped and shaved for medical experimentation?
To be fair, the idea is to teach kids to work with such electronic devices as lights, motor, interrupters, voice box and batteries to create electrical circuits. Interestingly, this upsetting rendition is seemingly closer to the original toy's inception. Four years before Tickle Me Elmo blew up, he was actually Tickle Me Chimp, then later Tickle Me Taz, after the Tasmanian Devil. That guy's probably balding, too, as he hasn't been in the spotlight for some time.
So, with Tickle Me Elmo, the third time was the charm. After all that experimentation, it only makes sense that the fourth time would be this fur-less abomination. At least kids will likely still love him just the way he is.
This article was originally published on