New 'Frozen 2' Olaf Toy Stalks Your Kids. We're Serious.
Okay. This is just weird.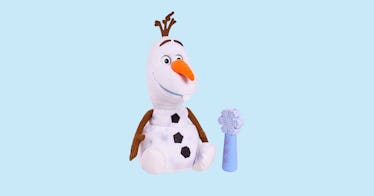 Frozen 2 is almost upon us, and when we're not letting it go, we're being inundated with various iterations of the Frozen 2 characters. Of course, at the top of the snow pile are Elsa and Anna, who are basically likable. But if you're a parent, you probably have a weird relationship with Olaf, the talking snowman "comic relief" of this whole blizzard. Is this robot toy for kids funny? That's debatable, but one thing is for sure, this new Olaf toy is creepy.
The new Follow-Me-Friend Olaf toy is exactly what it sounds like. It's a plush toy version of Olaf who will follow your kids everywhere they go. In fairness, mostly this ability is controlled by the child, but still. There's something really weird about the phrase "Follow-Me-Friend." We're not saying kids won't love this thing, but it's not exactly giving us the warmest feeling.
This stuffed creature has his own snowflake controller, and kids can use said controller to project a blue snowflake image that will activate Olaf and make him follow the light. If only everything in life were so easy.
Every product on Fatherly is independently selected by our editors, writers, and experts. If you click a link on our site and buy something, we may earn an affiliate commission.
This article was originally published on