Fossil Is Having a Big Sale on Bags Today. Here 4 Great Ones to Consider.
Whatever you're carrying, do it in style with these heavily discounted bags.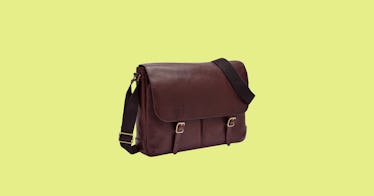 Need a new briefcase, messenger bag, or backpack? Now's a good time to strike. A number of leather bags from Fossil are on sale today for nice discounts. So whether you need to carry diapers, headphones, or your kid's new favorite toy, chances are you'll find a discount on something that'll get the job done. Here are four of our favorites from today's sale.
Walton Document Bag
This bag is pretty bare bones, with a 15-inch laptop compartment, detachable strap, and two interior pockets. It's probably not big enough to carry all of the stuff you need to have on you every day, but at $79, a whopping $219 off its normal price, you can afford to pick one up for occasional use.
Buckner Messenger
You can't go wrong with a leather bag, so no matter which version — dark brown, black, or the rich "black cherry" — of this messenger you choose you'll have done well. It comes with two pockets underneath the flap along with a padded 15-inch laptop pocket and a zippered compartment inside. Plus, you can emboss it for free, adding your initials in your choice of two different font sizes and three different colors. It's on sale today for $90 off its standard price.
Haskell EW Utility Brief
If you need a bag to take to work that still has some casual cred, this briefcase is a is a great choice. Its made of canvas, a more relaxed material, but the leather trim and brass hardware are enough to dress it up for all but the stodgiest of offices. You'll also find a padded pocket that can fit a 13-inch laptop and two internal pockets. There's a zipper that goes around the top of the bag, leather handles, and a detachable, adjustable strap if you want to keep your hands free on the go. It's price normally pushes the $200 mark, but you can pick one up today for just $138.
Buckner Backpack
This backpack is pretty simple: a large main compartment with a laptop pocket, a smaller front compartment, and two water bottle holders on the side. It's not that different from the Jansport you toted around in college, but the soft leather and brass hardware give it a decidedly upscale look that won't have anyone mistaking you for an undergrad. It's available in that same black cherry finish for almost $100 off its normal price.