This is the Epic Fort-Building Kit of Our Dreams
Your couch cushions will thank you.
by Emily Kelleher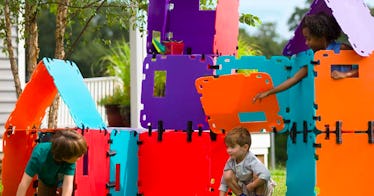 Building forts is an integral part of childhood. And while sheets, blankets, and pillows are the no-frills foundation of any fort, a true aficionado knows that a fort-building kit takes things to the next level. After all, when they're in forts, kids rule their kingdoms, defend them against marauders arriving in the form of annoying younger siblings, or, simply, just climb inside them to get a break from their parents.
Sure, forts can serve as life-sized booby traps, as any irritated adult tripping over one can attest, but fort building also encourages open-ended imaginative play, letting children make up their own stories and worlds. Forts give kids a sense of privacy and control. When they build them together, children learn how to collaborate and negotiate social rules. Plus, all the pedagogy aside, forts are just damn fun. Even better than putting one together? Knocking it down and rebuilding it, over and over and over again.
For parents who want to save their couch cushions and blankets, a fort-building kit is an easy way to level-up your kid's fort game. This colorful 32 piece fort-building kit from Magic Cabin is the foundation of any proper building endeavor. The weather-resistant set includes 24 wall pieces and eight window panels, which connect with sturdy clips and double-sided hook and loop tape. Each panel is 22 square inches and can be used in the yard or the playroom.
Kids can customize their fort each time they play, to keep things fresh. The panels can be used indoors and out, to build big or small forts, with crawlspaces, tunnels, and towers. And while many family activities are only fun on paper, building forts together is actually a hell of a good time.
Your couch thanks you for the reprieve.
Every product on Fatherly is independently selected by our editors, writers, and experts. If you click a link on our site and buy something, we may earn an affiliate commission.
This article was originally published on