The Best 'Star Wars' Toys to Buy for Your Kids (And Yourself) This Force Friday
Droids! Landspeeders! Action figures!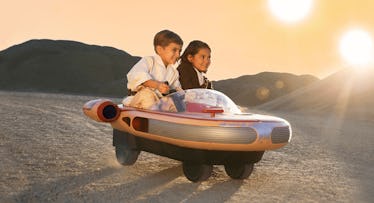 Can you sense it? A disturbance? Maybe it's just your toddler bouncing around the hallway with menace in her eyes. Or maybe it's because tomorrow is the second-annual Force Friday, the day when all the new Star Wars properties and products are unleashed on the world. From now until the end of 2017, we'll see new episodes of Star Wars Rebels, new video games including Battlefront 2, and not to mention a little movie called The Last Jedi.
RELATED: Holiday Gift Guide: The Best 'Star Wars' Toys, Figures, and Droids
Force Friday II, however, is truly being anchored to the flurry of new kids toys and gadget. Licensees are filling the shelves with everything from previously mentioned gear fans have been waiting for (helloooo Radio Flyer Landspeeder!) as well as new R/C droids, action figures, and more stuff that will accelerate your midichlorians. In addition to the new swag comes an interactive promotional feature within the Star Wars app, "Find the Force". It's an augmented reality treasure hunt, that when used in select retailers, lets fans hunt for secrets about The Last Jedi characters as they buy sweet action figures.
Of course, websites and big retailers are jumping on the hype spaceship with exclusives and doorbuster sales on Star Wars gear at midnight tonight. To make sure you're one with Force Friday, here are the most notable announcements and deals on Star Wars toys and gear, as well as what you can expect from major stores.
This article was originally published on