Fondoodler Is A Hot Cheese Gun To Make DIY Snacks
Snack time and arts & crafts are no longer mutually exclusive.
by Dave Baldwin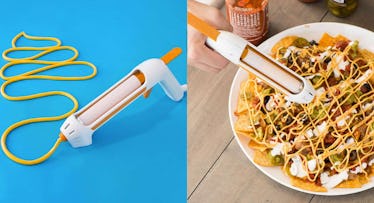 Considering how much time you spend trying to get your kids to stop playing with their food, the Fondoodler is probably the last kitchen appliance you want to see. But, then again, it is a hot glue gun for gouda (and cheddar, and pepper jack, and other cheeses …). Well, wetting a good example be damned — you want to make fanciful fromage art all over those nachos.
The Fondoodler may look like a cheesy joke (like that one), but it's totally real. Even weirder, it's licensed and sold by BuzzFeed, so try it out, then post an article about 23 Genius Fondoodler Hacks That Made Your Day In 2016.
It comes in three simple dishwasher safe parts — gun body, cheese canister, and push rod — and is so easy to assemble you could probably do it blindfolded, just like a culinary Navy SEAL. After assembling, just plug it in (let it warm up for 3 minutes), load it with your finest string, shredded, or cubed cheese, and fire away.
That's it. From there you're free to explore the studio space and "draw, design, decorate, and build any cheesy creation you can dream up" — so consider that cracker your oyster, even if it's not an oyster cracker.