No Summer Is Complete Without the FOAMO Foam Machine
by Donna Freydkin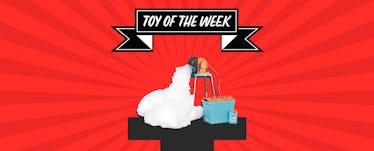 Technically, FOMO means "fear of missing out." And in actual fact, if you don't get the FOAMO, you're damn sure to be missing out on one of the most epically awesome summer toys we've ever seen. It's a foam-machine outdoor toy for kids. A water toy like no other, designed for your backyard. So yes, of course you need a water slide if you plan on dragging your kids off their tablets. And yes, you need a proper water blaster. But ultimately, those are the fixtures of summer, neither truly novel nor wildly surprising. That's where the FOAMO foam machine comes in.
This thing, from Little Tikes — they famously make durable-as-hell toys for kids, including one indestructible outdoor baby swing — is pure brilliance. Nay, it goes beyond even pure brilliance. It takes the joys of getting wet and dirty, both integral parts of summer, and adds the element of foam.
How does it work? It's elementary, dear Watson. You build the table and stand, install the blower and adapter, connect the blower to the pump, and add the nontoxic foam solution. Turn on the water. And, presto: two incomparable hours of foaming magic. (Each container yields about two hours of good times, and each refill is $20.) The set includes everything you need to get going: The foam solution, blower, hose, foaming adaptor, water pump, stand, and storage bin.
Here at Fatherly, we're big fans of simple toys, ones that excite the imagination and engage kids with thoughtful designs. But some toys are just big and fun and awesome. That's the FOAMO. It'll have your kids (and, let's be honest, you) rolling around in foam, because why not? It's what summer is all about.
Every product on Fatherly is independently selected by our editors, writers, and experts. If you click a link on our site and buy something, we may earn an affiliate commission.
This article was originally published on