The Best Home Fitness Equipment That Fits in a Small Closet
Including compact kettlebells, pushup bars, and this teched-out rowing machine that folds up small.
by Jon Gugala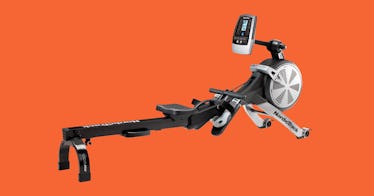 There's a lot of of excellent home workout equipment today. But, chances are you don't have the space for bulky machines or bulbous exercise balls. That floor and closet space is now dedicated to cardboard playhouses and strollers and crate upon crate of toys. We get it. The lack of space, however, shouldn't be a reason to neglect your workout. Because there are a number of great pieces of exercises equipment that not only enable you to have a great workout when the kids are down for a nap, but that take up little to no space or, at the very least, tuck inside closets. Here are some of our favorites.
Rx Smart Gear Rx Jump Rope
The contoured, ergonomic grips of the Rx Jump Rope are designed for secure, fast revolutions. Maybe that's why it's an unofficial favorite of some of the top CrossFit competitors in the world. While rope sizing can be tricky — careful measurement is required — the sheer number of options, from weight to rope and handle color, make this close to a custom-built double-under machine at a super affordable price. (Here's a jump rope workout that scorches calories)
TRX Home2
TRX has been delivering full-body workouts for more than a decade, and the Home2 continues this legacy with a system that takes up minimal space, packs away when not in use, and can be hung from just about anything. Its suspension design, which uses body weight and balance to develop both strength and mobility, is still a beloved method of fitness. Each purchase includes access to a training app, which provides guidance enough to create shaky legs and pumped-out pecs.
Lululemon Reversible (Big) Mat
Big mats are for big yoga poses (and bigger men), which is why we love the seven-foot-long Reversible (Big) Mat. At five millimeters thick, it's plenty plush and super grippy, all while still allowing for a strong connection with the ground underneath. A polyurethane top layer with an antimicrobial treatment sucks up sweat in all but the hottest practices. (Here are some stretches to do if you sit all day)
Fitness Gear Adjustable Kettlebell
Face it: While you're not going to find a small space kettlebell as good as the fixed-weight versions, the Fitness Gear Adjustable option is as good as it gets for the do-it-all home gym with a dearth of space. Its max may be light for most leg work, but for the staple kettle bell swings, its adjustable weight, which shifts from 20 pounds to 50 by 2.5 pound increments, is more than enough to help you progress into a seasoned vet. (Here's a 20-minute kettle bell workout to try)
NordicTrack RW200 Rower
Treadmills are boring and biking is only fun on the roads. Our aerobic exercise du jour is rowing, which is why we love the RW200. On its own, the whole-body workout machine is more difficult than any other common machine you'll find in the gym, and in conjunction with other workouts, it can fit just about anywhere. Connect your smartphone to its two Bluetooth-capable, digitally-amplified speakers and blast some of your favorite workout tunes. After the workout, the machine's seven-foot body breaks down into a mere three feet and rolls into the spare bedroom closet.
Perfect Pushup Elite
Performed correctly, push-ups are a perfect exercise. They're a functional total-body movement; they increase upper-body strength; they engage the core and the lower body; they can be done in nearly any situation when you have a spare 30 seconds. These rotating pushup stands, which have a grippy bottom that stays stable on a variety of surfaces, force you to engage your stabilizer muscles more. The result: a better burn. (Tired of standard pushups? Here are some pushup variations to try)
This article was originally published on