New Fingerling Toy Is an Unholy Combo of a Lemur and a Unicorn
Oh, and she has a detachable tail.
by Donna Freydkin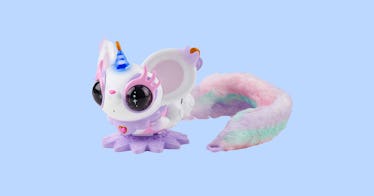 Back when Fingerlings were first released in 2017, they became so popular that finding one in time for Christmas was akin to spotting Santa Claus in his sleigh. Translation: Impossible. They're robotic toys that kids wrap around their fingers.
Of course, the brand remains a hot ticket, as do the various iterations of Fingerlings that parents can buy. And just time for the holidays, there's a new Fingerling in town: The Pixie Belle. Like her brethen, Pixie Belle is a wearable pet. She looks like a cross between a unicorn, a lemur, and an…owl?
She reacts to touch, motion, and sound and comes with three play modes: Nurture, spin, and dance. Those are self-explanatory. But wait! Wondering if your Pixie Belle is having an off day? You can tell her mood by her magical light-up horn. It's the electronic toy version of side-eye.
The Pixie Belle's natural habitat is the magnetic power pod, which attaches to clothing and can be worn all over, and their colorful tails detach to become a bracelet, keychain, or hair scrunchie.
Every product on Fatherly is independently selected by our editors, writers, and experts. If you click a link on our site and buy something, we may earn an affiliate commission.
This article was originally published on