What Dads Really Want for Father's Day, According to 11 Real Dads
From old-school video game sets and golf trainers to noise-canceling headphones and the chance to go ride in a tank.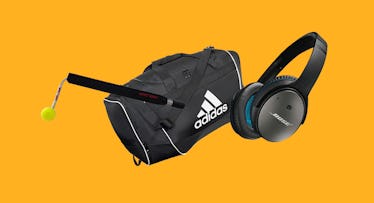 When it comes to Father's Day gifts, it's the thought that counts. But, if we're being honest, those thoughts often go in the wrong direction. Chalk it up to bad intel: gift givers see some generic whiskey stones, Moscow mule mugs, or reclaimed wood bottle opener featured on shelves or on gift roundups and think, "Well, hey maybe he will like that." Might he? Yes. But probably not. So, to provide better intel, we reached out to 11 ordinary dads to see what they actually do want. Answers ranged from old-school video game sets and golf trainers to meat baskets and, even, a gift card to go ride a tank. Chance are you'll find something here for the dad in your life — or, at the very least, not another set of whiskey stones.
A SNES Classic
The SNES Classic captures the home console you know and love but smashes it into a smaller, lighter housing. It comes loaded with 21 games, two controllers, and an HDMI connection. so you can watch your little ones learn to appreciate the classics as they get their digital butts Hadoukened.
Why a Dad Wants It: "This would be awesome. It's time to show the family how good I am at Street Fighter II. I love that the games are pre-loaded and that it'll work on my flatscreen TV. I actually still have my old SNES somewhere, but it won't hook up to newer TVs. So this would be a lot of fun." — Alberto, 43, OH
The Dyna Glo 3 Burner Gas Grill
An inexpensive for backyard grillers, this gas number features three stainless steel tub burners and 449 square feet of porcelain-coated cooking space. Heat tents help make heat distribution even and effective; 24,000 BTUs give you more than enough oomph.
Why a Dad Wants It: "If someone could get me a grill that makes it look like I know what I'm doing, that would be great. This seems perfect for someone at my level – grilling novice. I like that it's not a 'small' grill, but it's also not overwhelmingly huge. It feels like it would be a perfect fit for me." – Chris, 42, CA
A Personalized Leather Wallet
Those credit cards need to fit somewhere. This Personalized Leather Wallet can be customized to your specs, is made from split leather, measures in at a manageable 5" x 4", and features a clear ID sleeve. You can add up to 20 words.
Why a Dad Wants It: "Honestly, I'm a big fan of homemade, personal gifts. But, sometimes they just…suck. Not to be rude, but homemade gifts just usually aren't practical. This wallet, on the other hand, has that personal touch that makes it special, but is also functional and something I could really use. Maybe my kids could get me one that says, 'Bad Mother F$%&er'. My wife would love that." — Aaron, 36, IL
A Gift Card From DriveTanks.com
Yes, with a gift card to drive tanks, you can drive a fully-functional tank. Fully-functional, as in loaded with artillery that he can blast at a whole pile of ugly neckties. The place is in Texas, so it's sort of a hit or miss (get it?) as far as location, but we can't think of a better reason to head south.
Why a Dad Wants It: "This is amazing. It lets me drive and shoot a tank!" — Ed, 37, OH
The LL Bean Men's Scotch Plaid Flannel Robe
Sometimes a person just needs a gift that says do nothing and be comfortable while doing it. This is the beauty of the bathrobe. This classic LL Bean flannel robe is simple, comfortable, and able to be monogrammed so everyone knows it's dad's and dad's alone.
Why a Dad Wants It "This would be a good gift – I feel like a man needs a bathrobe. I'd probably never buy one myself, so I'd love getting one as fancy and comfortable as this." — Matt, 38, FL
The Adidas Defender Duffel
A simple, frill-free duffel, the Defender features a roomy main pocket, stands upright for easy packing, and has three zippered pockets for smaller accessories and toiletries. It has a simple handle and is reinforced with ripstop nylon to resist tearing.
Why a Dad Wants It: "I definitely need a new gym bag —I've had the same one since college. You can smell it across the house. I think simple is the way to go. I don't carry a ton of stuff to the gym — clothes, shoes, a towel…maybe some toiletries if I go in the morning. So, this would be perfect for my basic workouts." – Kirk, 33, OR
A Carnivore Club Membership
This subscription service sends a box filled with four-to-six cured meats to the doorstep. Each is curated around a single theme: one month, it might be French Charcuterie; the next, sample the finest Spanish Chorizo.
Why a Dad Wants It "A lot of my friends do this, actually. It's pretty cool — they always end up with something different. I love trying new food, but it's hard to do as a dad. There are only so many ways you can make macaroni and cheese, right?" – Jake, 31, WV
The Bose QuietComfort 25 Noise Canceling Headphones
For the dad in search of some true peace and quiet, the QuietComfort 25 are a solid choice. The over-ear headphones are lightweight, comfortable, and well-cushioned; most importantly, their active noise canceling drowns out outside noise so listeners can kick back and fall deep into podcast world.
Why A Dad Wants It: "I've started working from home a lot more, which can be … distracting. So, some good headphones would be really helpful during SpongeBob reruns. These seem pretty solid — nothing too flashy. I like that. Plus, I could wear them and turn the music off to hear what my kids really say about me." – Joel, LA
The Vivere Double Hammock
This Double Hammock is made of 100 percent cotton, is 130 inches long and has a 450-pound capacity, meaning it's great for more than one person (nudge, nudge). It comes with a 9-foot stand so there's no need to string it between trees.
Why a Dad Wants It: "I've always wanted a hammock in the backyard. A hammock, plus a few hours of uninterrupted relaxation … that would make a great Father's Day" — Mark, 50, FL
The Anker PowerCore 20100
These days a dead phone equals a missed call from the babysitter or a very podcast-less commute home. Resuscitate hardworking electronics with this portable battery. Slim enough to slip into a pocket, it packs a 20,100 mAh battery is good to refuel a dead iPhone seven times.
Why a Dad Wants It: "I travel a lot. It's hard to find a charger that can last for more than a few hours. If I could have multiple charges before having to plug it into a cord? That's exactly what I need." — Michael, 34, TX
An Impact Snap Golf Swing Training Device
Tired of chicken-winging, slicing, or duffing? Developed by 4-time PGA Section Teacher of the Year, Martin Nowicki, the Impact Snap forces you to use the right muscles, mechanics and movements to help improve your swing.
Why a Dad Wants It: "My boss takes me golfing a lot. I think it's because I'm so terrible. Any and everything I could use to get better would be a blessing. This seems simple enough that someone like myself could figure it out. I'd love to give it a shot." – Stevie, 37, ID
Every product on Fatherly is independently selected by our editors, writers, and experts. If you click a link on our site and buy something, we may earn an affiliate commission.
This article was originally published on