15 Father's Day Gift Ideas For Every Type of Dad
From a vertical turntable and outdoor pizza oven to a portable projector and go-anywhere work table, there's a gift here for every type of dad.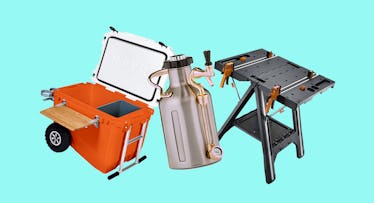 Father's Day gifts are some of the most difficult to find. Why? Because, chances are, your husband or dad simply shrugs and says he doesn't want anything. Well, if he doesn't know, we do: these are the Father's Day gifts your husband or father will be happy to receive. More than happy, in fact. Elated. We know because these 15 items represent what we, men with kids, want, as we've been ogling them in between science fairs and skinned knees for the past year. From a beautiful gym bag and a stunning vertical turntable to an outdoor pizza oven and a durable, portable work table these are the Father's Day of all interests and styles would be stoked to receive.
For the Dad Who Wants to Kick Back: L.L. Bean Quilted Sunbrella Hammock
The dog days of summer are perfect for shady respites, and this classic hammock is an ideal place to kick back. Thirteen feet long and made from fade- and mildew-proof acrylic fabric, it's a perfect leave-out for a season's worth of slumbers. Take note that you'll need 15 feet between its ends or you'll require an external stand.
For the Stylish Dad: Daniel Wellington Classic Bayswater Watch
Past Memorial Day, all we're thinking about is being on the water, and no timepiece channels the nautical aesthetic quite like the Bayswater. With its rosegold or silver accents, woven nylon band, and eggshell face, it straddles the line between casual and dressy, making this water-resistant watch appropriate at all times of day. Bonus: the Japanese quartz movement is dead-on accurate.
For the Dad Who Wants to Grill Everywhere: Everdure by Heston Blumenthal The Cube Grill
English chef Heston Bluementhal has released a small grill that packs some portable and precise power for charcoal grilling. A porcelain enamel firebox creates even heating over the length of its stainless steel rack while a heat shield protects the grillmaster himself. Intuitive details abound like a bamboo topper for food prep.
For the Dad Who Wants To Listen to His Music In Peace: B&O Play Beoplay E4 Headphones
With 20 hours of battery life, these noise-cancelling headphones continually pump out rich stereo sound through a 10.8-millimeter electro-dynamic driver for days on end. But the Beoplay E4 aren't just for the audiophile; practical considerations like a microphone to take calls on the go and a transparency mode which allows in ambient noises for environment awareness mean there's not a place these can't be used.
More Father's Day Gift Ideas:
For the Dad Who Wants Every Food to Have a Hint of Barbecue: The Breville Smoking Gun
Want to make some mesquite popcorn for the kids? A cherry-smoked old fashioned for yourself? Quick-smoke some pork belly? The Breville Smoking Gun is the gadget for you, friend. Feed the included Applewood or Hickory woodchips into its top a la a hookah and the resulting smoke is funneled over meats, cheeses, mixers, and more to create tasty and fresh takes on tired recipes.
For the Dad Desperate for Some Circulation: Stadler Form Otto Fan
Is dad's home office a stuffy cave? He'll appreciate something that will air it out. Fans have their function, but the Otto shows they can be art. The bamboo frame is beautiful and classic, and the three-speed motor can whip up gale-force winds. Accumulated dust is quickly cleaned via a removable back grill.
For the Dad Who Always Wants to Watch Movies: Nebula Capsule Projector
About the size of a beer can, this is the portable projector we've always wanted. No, it's not casting movie quality images (it's definition is less than 720p). But who cares? It's portable and easily connects to tablets and phones, allowing you to cast shows and movies on the nearest wall or hung bedsheet. It lasts four hours per charge, meaning it has enough life to play a family movie — as well as the film dad actually wants to watch.
For the Dad Who Has to Work Out the Kinks: TriggerPoint Grid Vibe Vibrating Foam Roller
Athletes of all disciplines have trusted TP's Grid roller for targeted relief from training-tight muscles. The Grid Vibe ups its speed and efficacy with an additional vibrating component that works faster than foam rolling alone. At 12 inches long and less than four inches in diameter, it's small enough to throw it in a carry-on for marathon weekend and recharges via a wall adapter.
For the Dad Always Sneaking Off to the Gym: Herschel Novel Duffle
So many uses and all of them stylish, the Novel Duffle goes to the gym and on the plane. Its segregated shoe compartment and two-way waterproof zipper are especially handy with sweaty footwear, and with a 42-liter capacity, you can bring the kitchen sink.
For the Dad Who Wants to Lounge in Comfort: American Giant French Terry Sweatpants
We here at Fatherly are unabashed fans of the French Terry sweatpant, and once you get dad a pair, he'll understand why. The midweight cotton fabric is robust and durable, and the straight fit is flattering without straying too far in fashion. Watch these become his new favorite weekend lounge-around pants—they've already become ours.
For the Dad Who Likes His Coolers Bear-Proof: RovR RollR 60 Cooler
Colloquially known as "that company that tested their coolers against Grizzly bears" RollR offers a 60 can cooler that can understandably handle plenty of human abuse. Holding 60 cans and 20 pounds of ice, it allows drinks to stay cold for up to 10 days. Nine-inch rubber tires and a stainless steel axle mean you can pull it to somewhere you'd actually like to be for that long; numerous accessories that integrate into its design mean dad can customize it to your liking.
For Dad Who Likes His Music With a Side of Old-School: Gramovox Floating Record Vertical Turntable
Most turntables, offering a walnut or maple finish, really mean a veneer. Gramovox doesn't play like that, sourcing authentic hardwoods for its player's detail-driven quality. From the carbon-fiber tone arm to diamond-tipped cartridge, it's as distinct as its engineering, which plays records vertically. What impressed us most was the quality sound coming from its two-inch stereo speakers and built-in pre-amp. (Translation: no secondary receiver required. Brilliant.)
For the Pizza-Loving Dad: Pizzeria Pronto Outdoor Pizza Oven
For the pizza aficionado, the Outdoor Pizza Oven recreates the superhot temps of a stone oven with propane, allowing you to offer quality pies at your next backyard grill. Two cordierite stones diffuse 700 degrees of heat, while the reflective heat shield helps cook perfect toppings simultaneously with the crispy crust.
For the Dad Who's Always Doing Projects: Worx Pegasus Folding Work Table
While his tailgate works in a pinch, the Pegasus is essential for any dad involved in any number of projects. The six integrated clamps are handy for securing wood (up to 300 pounds), and when he needs a sawhorse, a few quick twists and he's got one. At a mere 30 pounds, it's something he can haul to wherever he needs it.
For the Beer-Loving Dad: Growlerworks uKeg 64 Stainless
The uKeg keeps 64 ounces of beer fresh and carbonated for up to two weeks by utilizing replaceable carbon dioxide cartridges. While it may throw off a steampunk vibe, the stainless steel and brass coloring is a beautiful addition for any beer maker or lover. Bonus: Interchangeable tap handles allow him to customize his stash with his favorite breweries.
Every product on Fatherly is independently selected by our editors, writers, and experts. If you click a link on our site and buy something, we may earn an affiliate commission.
This article was originally published on