Best STEAM Toys, Robots And Programming Toys for Kids This Holiday
by Dave Baldwin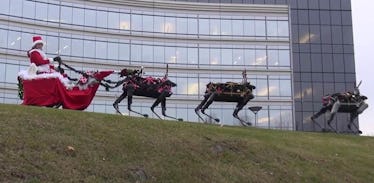 Take a look at any list of up-and-coming professions, and it won't take long to notice a trend: computers and science rule. And while you'll always be committed to fostering a well-rounded education for your little Michelangelo, you also don't want 'em living at home until they're 40. To help prevent that, and to give them a leg up on all those toddlers reading Truman Capote, here are programming toys for kids, robotics kits, STEAM toys aimed at encouraging STEAM (that's science, technology education, art, and math) skills. They're the best holiday gifts you could get your little genius.
Sphero SPRK Edition
SPRK does all the app-controlled spinning, jumping, and R2-D2 attitude-flipping that the original Sphero does, but ups the ante in two significant ways. First, it lets kids start coding without any prior experience simply by dragging and dropping visual blocks in an app. Second, SPRK features a transparent shell, so they can literally see how their programs translate to the ball's robotics. SPRK is also compatible with all the original Sphero games and apps, so simply switching it to drive mode and terrorizing the cat is a-okay. Learning should be fun, after all.
littleBits Gizmos & Gadgets
LittleBits are electronic building block kits full of buttons, triggers, switches, wires, batteries, motors, LEDs, and more (the "Bits") to encourage your kid (the "Little") to invent all the things. This kit was dubbed "The ultimate invention toolbox" because its 60+ parts can create 12 included inventions — among them a "Bubblebot," pinball machine, and RC car — plus hundreds more online. All those hours of creativity and distraction should excite you about STEAM more than a little bit.
Fisher-Price Think And Learn Code-A-Pillar
Code-A-Pillar is the best of two worlds: it teaches coding skills while steadfastly remaining a cuddly caterpillar. Preschoolers can (nearly) infinitely rearrange his segments to make him move in all directions and take paths to targets, which, believe it or not, is sequencing and programming. A companion app (of course) will expand on the counting and patterning challenges for little kids. And he lights up in 8 different colors! Finally, a STEAM toy that gets you.
Kano
Everyone knows Nintendo 64 is the best ever (YASSSS!), but how does it work? You never learned, but this is build-and-program-it-yourself computer kit will stop your kid from making the same mistake. Kids ages 6 to 14 "level up" through the story-like instructions by learning to add functionality like Internet browsing, and tweak games like Minecraft, which you still don't need to understand.
SAM Labs
If you haven't heard, the future will be wireless, and SAM Labs is an easy-to-use electronics kit that will prepare your kid. These rechargeable smart blocks (a button, LED, motor, and buzzer) each perform a different behavior (flash, move, twirl, etc.). When a block turns on, it appears in the SAM Space app, where your kid can drag and drop components to connect them. Depending on the STEAM kit, those components can be used to build a remote-controlled car, a drawing machine, or a robot maid. Just kidding on that last one. Unless they're Elon Musk. In which case, who knows?
MakeyMakey
A mini circuit board or USB stick that turns anything into a touchpad might be the very definition of "Maker Toy." It even has "Make" in the name — twice! What makes the "world's first go-anywhere invention kit" the raddest is the endless possibilities. Banana keyboard? Check. Jell-O joystick? Done. SmartPie Selfie camera that automatically snaps a photo when your kid takes a banana cream pie to the face? Yeah, that's probably worth 25 bucks.
MakeyMakey Classic
MakeyMakey Go
Mover Kit
From the DIY tech STEAM toy mad scientists at Technology Will Save Us, Mover Kit is an educational wearable aimed at getting your kids off their duffs and addicted to coding. Inside the box you'll find a processor that makes use of a motion sensor and compass, and rainbow LED lights that kids can program to do all sorts of cool stuff: Make their own arc reactor for Iron Man cosplay! Play a game of 21st-century hot potato! Or just have them slap it to their wrist so you know where they are in a blackout.
MEL Chemistry
Of course, you want your kid to grow up to be Walter White, brilliant scientist for Grey Matter Technologies and family man — not meth kingpin Heisenberg. And this is the twice-a-month STEAM chemistry set subscription that can make that happen. The Starter Kit contains all the beakers, safety glasses, and Bunsen burners to get them started. And additional boxes are experiments like making monsters out of burnt sugar. (That's where Dr. Frankenstein went wrong.)
Markybox
Not to be confused with the Marky Mark box (which is full of Funky Bunch cassettes and used Calvin Kleins), Markybox is a subscription service that delivers a new box of arts and crafts supplies to your door every month. And no, not a few sheets of construction paper and some glitter. Recent boxes have included plaster molding, paper marbling, screen printing, tin screening, string art, papier mache, and fabric dying. Each STEAM box includes a single project that's been curated or designed by a "world-renowned contemporary artist" (like Will Farrell) and comes complete with instructions and all the supplies necessary for 2 people (age 4+) to get their hands dirty. Goodbye Brown, hello RISD.
Buy Now $40 per month + shipping
Cubetto
Primo Toys' Cubetto teaches kids as young as 3 programming fundamentals through tactile interaction with a STEAM toy they totally get: a sweet, smiling wooden block. Kids program Cubetto to move along a specified course on a map by arranging 16 colored-coded chips in a particular order on a Bluetooth-enabled "pad" (also made of delightful, blonde wood). Once Cubetto's been programmed, kids hit the start button and watching in amazement as the block moves from A to B as specified. There's no right or wrong way to play, and as kids get more comfortable with Cubetto they can program it to move in different patterns across chosen milestones or around obstacles on one of several included maps.
This article was originally published on