The 14 Best Holiday Gifts For Dad This Season
by Dave Baldwin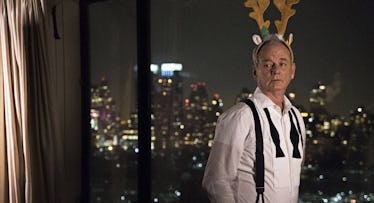 You know the deal: If your wife asks you what you want for the holidays and you say, "I'm good, nothing really," then you're going to get boxers. Or socks. Or the suggestion that "Maybe we don't do gifts for each other this year?" Don't let that happen — you've worked too hard to forfeit your rightful recompense. So when she (or anyone really) asks what's on the holiday gifts for dad wish list, you can now just point at one of these presents and say, "These please."
R2-D2 French Press
From delivering Death Star plans to fixing the Millennium Falcon's hyperdrive, R2-D2 is arguably the most helpful droid in the galaxy. But can he brew a delicious cup of morning coffee? (You know he can!) The officially licensed, 32-ounce Star Wars-themed coffee maker has a glass carafe, stainless steel plunger-filter, brews 4 cups, and is dishwasher (but not microwave) safe. Plus, you can say "this is the coffee you're looking for" every morning. Seriously, every … single … morning. That joke will never get old.
Freespirit Journey Trailer Basecamp
There's nothing quite like the thrill of pitching the family tent in the middle of a thunderstorm while your kids fight in the car to really get you daydreaming about owning a trailer. Pretty much the pinnacle in car-camping kit, the Freespirit Journey is a lightweight trailer (just over 1,000 pounds, all in) topped with an integrated, all-season 9-foot tent that sleeps 4 to 6 and — thanks to an axle-less suspension system — can be pulled by the smallest of cars.
Raden A22 Carry-On Luggage
Because the TSA isn't getting any smarter (as evidenced by that security line wrapping around Terminal A 3 times), why not give your luggage a few more IQ points? The Raden A22 is a carry-on built like a battering ram that can be located anywhere in the world via a smartphone app that works about a thousand times better than the airline's own luggage tracking system. It can also charge your phone 4 times with its 7,800mAh battery — coincidently, in the same amount of time it will take all those people in front of you to take off their shoes and belts.
Suunto Spartan Sport GPS Watch
The only thing this super watch from Suunto seemingly won't do in the next Tough Mudder is jump the damn fire pit. What the holiday gift for dad does do is come pre-set for 80 different sports. It can track all your workout stats, includes a GPS route navigation to keep you from getting lost, and rocks a color touch screen that works even when it's covered in mud. (Or, less desirable, blood).
Google Home
Google Home is the latest piece of virtual assistant tech that "learns" your preferences the more you use it. Place it in the middle of your living room, and its always-listening microphone knows how to add potential playdates to the calendar, order an emergency shipment of diapers, or blast all the Kindie rock playlists you've saved.
The Rap Year Book
If you learned everything you needed to know about parenting from hip-hop, this book will teach you everything you need to know about your favorite songs and emcees. Starting in 1979, each year's most influential rap song is explained, illustrated, and infographic-ed, proving that not every picture book is a children's story. Except for the page about Slick Rick's "Children's Story."
HP Powerup Backpack
From the outside, the HP Powerup is a handsome, nondescript gray canvas backpack with reinforced leather handles. But open the holiday gift for dad up and prepare to be … electrified (note: It won't really electrocute you). Inside the front pocket, there's a single 22,400mAh/84Wh battery that can charge up to 3 devices, multiple times: A laptop (once), a tablet (3 times), or your phone (10 times).
Pappy Van Winkle Barrel-Aged Maple Syrup
Since nobody's buying you a bottle of Pappy Van Winkle's Family Reserve 23 Year this holiday season — or ever, for that matter — this syrup aged in bourbon barrels may be the next best thing. It's fresh maple syrup from Ohio's Bissell Maple Farm aged 6 months in Pappy Van Winkle 10 and 12-year-old barrels — simple as that. Or is it? (It is.) Everybody in the family enjoys Christmas pancakes covered in sweet syrup that tastes like vanilla and butter, while you appreciate the finer hints of oak in the country's best bourbon.
The Barisieur Coffee Alarm Clock
Despite resembling a mini-meth lab mounted on top of a digital clock, the "Barista + Connoisseur" (get it) is an alarm clock that brews fresh hot coffee right on your damn nightstand! It generally works like any other programmable drip coffee maker except the holiday gift for dad uses induction heating to safely heat the water in the flask (or is it a beaker?) to 94 degrees, so you won't accidentally burn your hand when reaching for the snooze bar. There's also a built-in USB jack to charge your many devices, a "bespoke peltier cooler" for chilling a vial of milk or cream overnight, and a sealed drawer that holds both coffee grounds and sugar.
Buy Now $299 Pre-order for June 2017
Nest Cam Outdoor
The newest Nest is an always-on "smart" camera that continuously records/live streams a 130-degree view outside your door, and saves it on the cloud for up to 10 days. The big coup, though, is that Nest can purportedly identify the difference between people and ghosts — or at least motion not caused by people — and sends alerts when it detects suspicious activity. You can then jump on your smartphone to see who is loitering on the porch. Use the 2-way intercom to ask them to cease any and all supernatural activity and return forthwith to their place of origin or to the nearest convenient parallel dimension.
LIFT Cargo Bike
For as much as you love riding around on your bike, it's not the best for hauling crap (or your kids, who also crap) around town. This heavy-duty carrier, however, converts most bicycles into a cargo vehicle, which saves you from having to buy either a separate kid trailer or a second, garage-hogging utility bike (and face it, you're not a 2-bike guy). The compartment is made of Baltic Birch plywood while the frame is welded, shock-absorbing steel for a smoother ride. And the best part is that you don't need to consult your Zinn And The Art Of Bicycle Maintenance just to hook it up. According to the LIFT team, it takes less than a minute and involves only 3 connection points.
Mighty Mug Barware
Remember that mug that's physically impossible to knock over? The one that made it possible for you to caffeinate enough to deal with your kid without fear of said caffeine accidentally scalding said kid? Well, the geniuses behind it now make barware, and the holiday gift for dad works the same way as the mug — with SmartGrip technology. The glasses sit on top of a suction cup that's activated by the weight from the beverage, so it can only be budged by lifting straight off a flat surface. Your beer won't spill, even if you're on a boat; or, more realistically, if you're enjoying the work-from-home perk of drinking on the job but Junior can't keep his hands off dad's toys.
Tentsile
Make your kid's treehouse dreams come true with no-technical-skill required hammocks and tree tents inspired by the Ewoks from Return Of The Jedi. (Star Wars always has the answer.) Tentsile tents fit 2-6 people, and adding a hammock creates a multi-level outdoor living space. Everything is reinforced and secured by heavy duty materials for safety, stability, comfort, and the greatest view of the neighbors' yards you can get without a drone.
PancakeBot
Pancake art lessons from a record-holding master of such things are awesome (and totally free, you're welcome), but also require a lot of work. PancakeBot is the 3D printer-griddle mashup the world finally realized it needed, and a great option if you'd rather throw money at a problem than roll up your apron sleeves and deal with it yourself.
This article was originally published on