The 6-Inch Kibou Fanny Pack Diaper Bag Is Every Minimalist Parent's Dream
Because yes, size does matter.
by Jon Gugala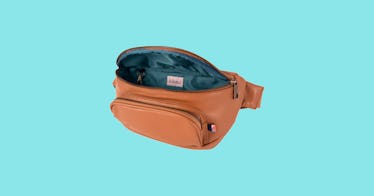 When it comes to selecting a man's diaper bag, we ask ourselves one question: Would Dwayne "The Rock" Johnson be seen in public wearing it? With the minimalist Kibou fanny pack diaper bag, the answer involves a raised eyebrow and a rhetorical question about smelling what's cooking.
Launched as a Kickstarter by a harried parent looking to slim down the bloated diaper bag, the Kibou was designed to do more with less. It's a sleek, minimal fanny pack that despite its small footprint fits every single parenting essential, with room to spare. And yes, even The Rock, with his penchant for fanny packs, would approve.
First, the basics: This thing fits up to three diapers, a baby bottle or snack, and a spare onesie for those inevitable fecal explosions.
Screw the bulky wet wipes container; thanks to its built-in wet bag you can keep up to 20 wipes moist for up to two weeks sans bag. Out of wipes but now the proud owner of a freshly soiled onesie? Slip it in and the compartment keeps everything separated until you get back home and throw it in the wash.
There's more hidden in its depths: Find yourself in a grungy rest stop bathroom and a questionable surface? Whip out its built-in changing pad handily stowed in the back flap. Voila, a clean, dry surface of about one-by-two feet.
There's even dedicated space for your everyday carry items, including a key hook (it doubles as a pacifier holder) and slots for ID, credit cards, and cash.
Of course, it looks damn good or we wouldn't be bringing The Rock into the conversation. Made from an easily cleaned vegan leather that's secured around your waist thanks to an ergonomic, weight-bearing buckle, it's thick enough to not dig into your waist while reducing bounce on the go. It also comes in a few different colors so that you can find the kind that best matches your style. Plus, it's 6 inches by 11 inches. So we're talking small. So small.
Sure, a couple decades ago, it was thought that fanny packs were gear-holders that only dads wore. But it doesn't matter what you think. Today, the Kibou ensures that you're both prepared and in style when it comes to daddy diaper duty.
Every product on Fatherly is independently selected by our editors, writers, and experts. If you click a link on our site and buy something, we may earn an affiliate commission.
This article was originally published on