How I Stopped Dressing Like a Grade Schooler and Learned to Flaunt My Dadbod
As a dad who works from home, my style could be boiled down to "whatever doesn't smell today", but a meeting with the Faherty twins gave my fashion sense new life.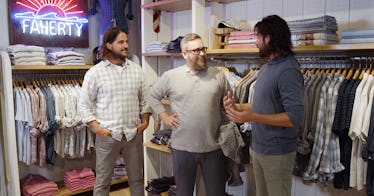 When I had my first child, I never thought I'd slide into what is euphemistically known as "dad style." I was ready to wage a valiant war against cargo shorts, flip-flops, and logo tees. It helped that I had office jobs that required some semblance of style. But then I had my second kid and started working from home. My wardrobe became tighter and as I gained weight and stopped buying anything new. Soon I was draping my bulk in loose, stained t-shirts, baggy button-ups and threadbare denim — a look that communicated a surrender to circumstance. The polite way of saying it might be that I looked selfless. I certainly didn't look like I was preening in front of the mirror.
The problem wasn't the weekday, home office looks. The problem was that things didn't get much better on date-nights with my wife. She was lucky if my shirt had all its buttons. My wife stopped calling me cute. I needed help. That's when I was introduced by my editor to Mike and Alex Faherty, the twin creators of Faherty, which manufactures comfortable clothes for adults of all sizes who still care what they look like.
When I was offered a Faherty makeover, I was doubtful that the New York-born fashion brand would have anything thing that would suit either my "Ohioan" frame or Ohioan lifestyle. I was also certain that the brothers Faherty, who are themselves alienatingly handsome, had underestimated the task ahead of them. After all, I was an adult man who had a propensity to dress like his Kindergartner. Could I really be helped?
Walking into the charming new Faherty store in SOHO, I was immediately put at ease. There was nothing on the racks that looked particularly intimidating. The palate and patterns were subdued and adult. The fabrics and textures were sumptuous to the touch.
When I met Mike and Alex, they were reassuringly unperturbed. They assured me that Faherty was built, in part, for men like me who wanted to dress like masculine grown-ups and maybe put a sparkle back in the wife's eyes. They set about picking three outfits: a casual weekend combo, daily workwear and a date night ensemble. But more than throwing a pile of clothes at me, the bothers wanted to teach me how to dress and feel more comfortable with my body.
We started slowly with a casual look and I was surprised to be handed a pair of sweatpants. Isn't this exactly what I was trying to avoid? But here's the thing I learned. Not all sweatpants are created equal. And Faherty's sweats, built from crazy-soft fabric, were far from the heavy, baggy sweats I'd worn in the past. Instead, the sweats were consciously tapered and styled in a way that I would feel more than comfortable wearing them to the grocery store on Saturday with my boys. They didn't look as if they were being worn because nothing else was clean.
Paired with a grey t-shirt and a subtly quilted jacket, the casual weekend look felt elevated and versatile. Not only would it allow me to be an active dad, but also a mature and comfortable one.
Next, the brothers introduced me to their line of comfort twill pants. I began to sense a theme with Faherty. Everything they make feels incredible on the body. The pants were light and gave in the right areas. Paired with a fall-weight knit blazer and a light chambray button up, I looked professional enough to leave my home office for face to face meetings. I also felt comfortable enough physically and mentally. The blazer and shirt fit perfectly around my shoulders, chest, and waist, and the pants moved with me with pinching or tightness.
So I was pleased to be handed another pair of comfort twills for my date night look, along with a very masculine and grown-up plaid linen button up. When I stepped into the mirror I wanted more than anything to take a selfie for my wife back in Cleveland. Things were changing.
Most importantly, my time with Faherty reminded me to pay attention to basics. All I really needed were a few ultra-comfortable pieces that I could mix and match. And if I looked for intentional design and a mellow palate, I could look like a man, rather than a boy.
Now, back at home, my closet and my date nights have been saved and I feel like my dad-style has been elevated. All it took was the kindness of two hot twins and some everyday staples that made my wife look twice.