This Clever Placemat Sticks to the Table So My Kid Can't Make a Mess
The EZPZ Happy Mat also has a three-compartment dish built right in.
by Jeff Foss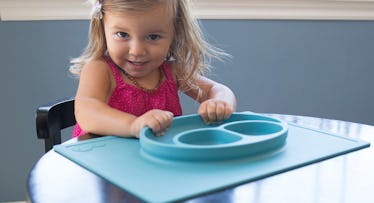 There's no more inconsiderate form of life than a one-year-old child. Equal parts darling and dementor, a kid this age will destroy your dining area with a flick of the wrist. Or, more likely, many many flicks. In fact, my daughter used to slapshot entire plates of food off her highchair tray with such force that we'd find peas and flatware under the sofa in the adjoining room, 30 feet away. And no matter how cute they are, eventually, you get sick of cleaning up the damn floor.
Which is why when my wife heard about the EZPZ Happy Mat, a colorful suctioning placemat with a built-in dish, from a parent with a similarly … er, spirited child … we were fine dropping $25 on it. Admittedly, that's a lot to pay for a piece of rubber but considering how much it reduced our paper towel consumption, not to mention our level of frustration nightly, I'd say it was well worth it. It changed the game almost immediately.
Think of the EZPZ Happy Mat as a big suction cup disguised as a placemat. Made from 100% food-grade silicone, it creates just enough sucking force to stick to flat surfaces. To remove it at the end of a meal, simply lift one of the corners and release the suction. It was on Shark Tank last year (so, no, it's not new) and while it didn't get a deal (largely because of a ridiculously high valuation), the mom who invented it used the opportunity to get the name out there. Today, there are already a bunch of copycats.
Of course, calling the EZPZ Happy Mat a "mat" is doing it a grave disservice, because it's really an all-in-one eating solution. There are three small compartments (4oz, 8oz, and 10oz) molded into the surface, so from your kid's perspective, everything but the food is nailed down to the table. Fewer moving parts, lower mess potential.
In addition to keeping the dining room or kitchen clean, we've found the EZPZ Happy Mat also helped our daughter develop dexterity and coordination. Instead of flipping over plates or dumping out bowls to get to the grub, the EZPZ Happy Mat forces her to be deliberate. She actually has to navigate the spoon to pick up the applesauce.
Not only that, but after a few months of using the Happy Mat, we discovered some bonus features. For one, if you have other kids over, you can stack the mats on top of each other when clearing the table and nothing spills ⏤ each mat essentially seals off the mat below. Two, they're microwave safe up to 350 degrees, so you'll never have to dirty up another plastic container just to heat something up. And three, they're completely BPA, BPS, PVC, latex, and phthalate free.
Since we liked our EZPZ Happy Mats so much, we ended up getting a couple of the new EZPZ Happy Bowls as well, which have a deeper basin (1.5-inch) for things like cereal and oatmeal. Naturally, you can warm the oatmeal directly in the bowl by putting the whole mat in the microwave. Again, genius. Maybe the founder wasn't as crazy as the Sharks thought when she asked for $1 million for five percent equity.
One final observation. Our daughter got so used to not being able to scatter her dishes everywhere that she stopped trying ⏤ even when our Happy Mats were in the dishwasher and we were using traditional bowls and plates. The mats essentially trained her out of the habit. If only they could invent something like this for the bath.
This article was originally published on