Essential Baby Sleep Gadgets & Products For New Parents
From 'smart' monitors and sound machines to magnetic PJs and silent swaddles.
by Dave Baldwin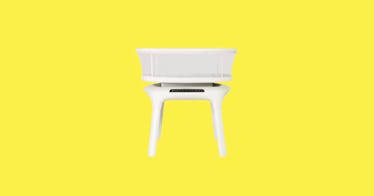 Baby sleep training, meaning getting your infant to sleep through the night, almost feels as attainable and realistic as doing tequila shots without getting a crippling hangover. And everywhere you look, products from sound machines to swaddles to tricked-out baby monitors promise to help you establish a baby sleep schedule. No, it's not a pipe dream and yes, you can do it.
Babies need sleep. Newborns sleep up to 17 hours a day. According to the American Academy of Pediatrics, infants four to 12 months old should sleep 12-16 hours every 24 hours. Children one to two years of age should sleep 11-14 hours. That's a whole lot of sleep.
Here are baby sleep essentials that every new parent needs at home. Will they guarantee you eight hours of blissful shut-eye? Hell, no. But will they make your infant sleep better, and longer? Hopefully, hell yes. Just be aware that roughly two-thirds of babies are able to sleep through the night by six months, so don't go celebrating quite yet.
Every product on Fatherly is independently selected by our editors, writers, and experts. If you click a link on our site and buy something, we may earn an affiliate commission.