New Elsa 'Frozen 2' Vanity Lets Your Kids Channel Their Inner-Ice Princess
It's basically just a mirror and drawer, but that's kind of the best sort of toy, right?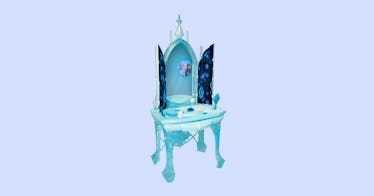 One of the biggest problems with toys connected to popular movies is that the play value beyond just pretending to be in the movie is limited. But, the best new toy from Frozen 2 is actually the simplest; and has some fun value beyond the kingdom of Arendelle. Elsa's Enchanted Ice Vanity a new Frozen 2 toy. It's a giant vanity mirror that lets your kid pretend to be an ice princess, which honestly seems rad. Here's why.
Having a toy mirror that isn't totally dangerous is actually sort of a challenge if you have a child aged anywhere from two to 21 years-old. For me, this Elsa Ice Princess Looking Glass (not the actual name) seems to do the trick. Plus, it has little drawers where kids can put stuff. Kids love putting stuff in drawers. Don't believe me? Get yourself a kid, it's hilarious to watch them put stuff in drawers.
ANYWAY. For those of you who think Elsa's Enchanted Ice Vanity is only for girls, and therefore sexist and encourages princess worship, to that I say: let it go! This thing is just a magic mirror toy. I don't think magic mirror toys are actually gendered, do you? True story: I had an astronaut Barbie as a child and I'm a cis-male who is now a father. I think had I had a magic mirror vanity like this I would have loved it. Magic mirrors rock.
So there you have it, Elsa's Enchanted Ice Vanity is a useful, safe mirror for a small child, and will encourage children of all genders to channel their inner-Elsa, which basically means they'll be more confident, independent, and if we're lucky, hilariously loud singers.
Every product on Fatherly is independently selected by our editors, writers, and experts. If you click a link on our site and buy something, we may earn an affiliate commission.
This article was originally published on