Everything You Need to Know Before Considering an Electric Scooter for Kids
They look fun. They are fun. But they're also dangerous in the wrong hands.
by Donna Freydkin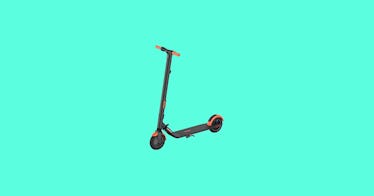 At some point, the sheer bliss that kids experience propelling themselves ahead on scooters loses its luster. As they grow into tweens and then teens, scooters become a means to an end, a quicker way to get to school or the skate park. The classic scooter becomes the station wagon of youth transport: It gets you where you need to go, but sleek and alluring, it's not. And that's when your tween is going to start pestering you to buy an electric or motorized scooter. Electric scooters for kids go fast. They look cool. And they're just mad fun.
What's not fun? Winding up in the emergency room after a serious collision because the rider wasn't mature or experienced enough to control his two-wheeler, says Dr. Kirsten Bechtel, an associate professor at the Yale School of Medicine and an attending physician in the pediatric emergency department of Yale-New Haven Children's Hospital.
"If you think about it… you're riding a bike in traffic as an adult, to do that safely, you have to be a mature person who's not distracted, who's not wearing headphones, who will wear a helmet. The age at which you get a license for a car is probably when it's OK to use an electric scooter. Before that, kids don't have the reaction time or emotional maturity to ride one," says Bechtel. "When you're riding an electric scooter, you're riding in car traffic."
Fine, argues Junior. He promises to avoid roads and streets and to stick to pedestrian walkways instead. "If you ride on the sidewalk and hit someone," says Bechtel "you will injure them."
But Bechtel lives in our world, and she fully understands the allure of motorized scooters. If you feel your child is trustworthy and responsible enough to handle one, she has a few common-sense recommendations. Number one: No kid under the age of 16 should ride an electric scooter — even though quite a few brands sell electric scooters targeted at much younger children, with correspondingly lower weight limits. We're not naming any here, because they are not a good idea, period.
"You want an electric scooter that can go slow. If it goes more than 30 miles per hour, and you hit someone, that's likely a severe injury. The faster you go, the more likely you are to hit someone and the more likely you are to get hurt," says Bechtel. "The slower the scooter goes [the better], and the fact that you wear a helmet — that's important. You need more protection around your head. You're competing with cars."
When choosing an electric scooter, bear a few things in mind. You or your kid will be hauling it around, so pay attention to both the weight of the scooter and the weight limit for riders; the higher the limit, the longer it will last. Most scooters top out at 220 pounds, but one on our list goes to 250 pounds. Note the miles-per-charge ratio, because that determines how often you'll have to charge it and for how long. And there's the consideration of speed: The top speed for most scooters is 20 miles per hour, for safety reasons; we recommend you choose one that's under that limit to avoid temptation. As for brakes, disc brakes are the best, but they're also pricey; electric brakes work fine as well.
Every product on Fatherly is independently selected by our editors, writers, and experts. If you click a link on our site and buy something, we may earn an affiliate commission.