This Space-Aged Balance Bug Is My Toddler's Favorite Ride
It looks like something spawned from a partnership between IKEA and NASA — and helps my daughter explore the space.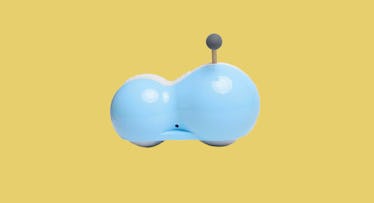 Early Rider Spherovelo
Not long after my toddler started walking, she scared the crap out of my wife and I. In her infinite curiosity, she climbed aboard an oversized ⏤ at least for her ⏤ inflatable bouncy horse at a friend's house and took a nasty tumble. She had been enamored with the horse before the fall, although clearly frustrated that it wouldn't move, and the incident served as sort of "aha!" moment for us. Not only did we need a balance bike to help sharpen our little girl's newfound sense of balance (something a little more versatile than a traditional walker), but it should probably have wheels, too.
And so the hunt began and ended in a random toy store in the heart of hipster Williamsburg, New York. Upon seeing the Spherovelo, my daughter immediately jumped on and pushed herself around the joint with an ease she hadn't previously demonstrated on any other toy ⏤ it was as if she'd been riding the thing for months. We had to buy it.
The original Spherovelo was made by Early Rider, a UK-based children's bike company, and it looks like something you'd get if IKEA teamed up with NASA. It's sleek and ergonomic with a modern space-aged aesthetic. The entire body consists of two connected spheres, one large and one, well, less large. Underneath are two matching rolling spheres — the wheels — that are made of the same polyurethane used in skateboard wheels. On top, where the two spheres meld together, there's a grooved seat sized perfectly for kids ages 10 to 24 months (or as young as seven months with a parent's help). The Spherovelo's handlebars are simple wood with two soft covered balls on each end. It has a minimalist vibe but with a clear focused on child fun. Honestly, it kind of looks like a bug.
That's the original, the one we own; unfortunately, Early Rider stopped making it and production was picked up by another English company, Baghera, although you can still find them on eBay. The new $120 version, known as the Twister, launched this week and, while decidedly less spherical, reportedly maintains all the same attributes. And it's still designed to teach kids as young as one how to "make the connection between their senses (vision, pressure, equilibrium) and their motor system." Now it comes in black and pink.
In any case, the floor model Spherovelo in the store was the last one they had in stock. The cashier cut us a deal, as it was caked in filth, and we took it home and cleaned it up. And it was only then, almost like discovering a hologram of Princess Leia asking for Obi Wan's help, that I stumbled upon its best feature. In between the two giant rolling wheels, there are two stabilizing wheels ⏤ that almost look like they belong on the bottom of an office chair ⏤ that can be removed to help a toddler develop their own balance. When my daughter grew comfortable with her center of gravity, we took the trainers off and she was left to rely only on her legs to keep the little bug stable.
My daughter is now three and still rides her Spherovelo. It's her go-to indoor ride (although it's designed for both indoor and outdoor use) and her favorite mode of transport when she's feeling silly. Not only did it teach her stability and give her confidence to use her lower limbs, but even now she's still finding new ways to use it. Last week, I caught her pushing around her Curious George stuffy and Frozen dolls. This thing doesn't stop giving.
This article was originally published on