Dyson's New Bladeless Fan Is Also A Dust-Devouring Air Purifier
Dyson wants families to breathe easier.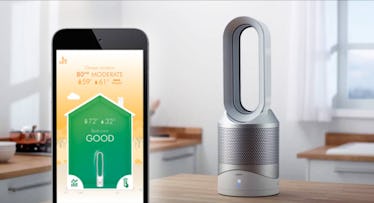 How do you make a smart home gadget like an air purifier sexy? Give it some brains, jam it into the bottom of a bladeless fan, and make the whole thing looks like a silver tower that appears to be sending signals to space. That's Dyson's technique anyway, and it's certainly working because damn is their new Pure Link Cool fan fine.
But it's more than just a futuristic face. The Dyson Pure Cool Link, the latest iteration of the company's series of oscillating, bladeless fans, automatically measures a room's air quality and then eradicates any allergens and pollutants it finds. The fan's filtration system is said to trap not only 99.97 percent of .3 micron small germs and particulates (including mold, bacteria, pollen, and pet dander), but also such gasses as Formaldehyde and Benzene. A 360 degree Glass HEPA filter (good for 4,000 hours) traps the offenders, while a high-power motor circulates the freshly purified air.
The Pure Cool Link also syncs to a smartphone app and provides real-time monitoring and daily/weekly air quality reports. The fan mostly does its own thing in 'auto' mode; users, however, can also use the smartphone app or included remote to schedule their air purifying, set sleep timers, and even put it into a quieter, night mode. You know, for the nursery.
Being from Dyson, the Pure Cool Link is a luxury item and not cheap. Very not cheap, at $500. But it's technically three luxury items in one — air-quality monitor, bladeless fan, and purifier. If that rationale works for you or if you're too smitten not to buy, then you can pick it up now.
This article was originally published on