Dungeons & Dragons Was Just Inducted Into The Toy Hall Of Fame
"Stranger Things" have happened.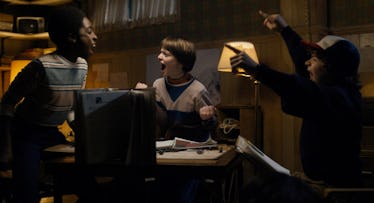 One of the luxuries of becoming a parent is that you don't have to care about being cool. which means you're free to once again profess your love of the classic role-playing game, Dungeons & Dragons. Contrary to popular belief, it's not a game for nerds — just ask Vin Diesel. Or The Strong National Museum Of Play, the "world's largest and most comprehensive collection of historical materials related to play," that recently inducted D&D into their Toy Hall Of Fame.
The museum in Rochester, New York chose paid tribute to the 42-year-old RPG due to its enormous influence on the games that came after. "Dungeons & Dragons' mechanics lent themselves to computer applications, and it had a direct impact on hugely successful electronic games like World of Warcraft," museum curator Nic Ricketts explained. And it's not like they let just any toy into their Hall Of Fame. D&D beat out finalists like Nerf, Transformers, the card game Uno, and Rock 'Em Sock 'Em Robots — who literally fought their way into the competition. Who's the nerd now?
Dungeons & Dragons joined a short list of 2 other inductees — Fisher-Price's Little People toddler toys, and the swing (yes, just a swing) — in addition to veteran Hall Of Famers like Barbie and LEGO. It's no President-elect Trump in the WWE Hall Of Fame, but it is exciting for all the parents who can't wait for their little druids and orcs to start earning experience points. After all, you can't spell dad without D&D.
This article was originally published on