DJI's New Smartphone-Sized Drone Proves Less Really Is More
It streams video from two miles away.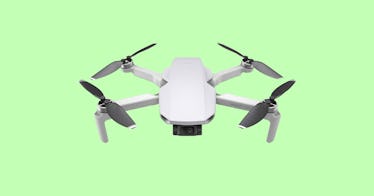 DJI drones are the best you can buy. Period. And if you're on the hunt for a great drone for beginners, look no further than the DJI Mavic Mini. DJI has been the go-to company for everyone from working professionals to parents, and with its new Mavic Mini drone, it's never been easier to achieve notable results in a package that requires minimal space. It's also a great drone for (older) kids. Or as a gift for yourself.
While its Mavic line of drones has consistently walked the line between video nerd and the everyman, DJI's latest, lightest offering will have many lusting after its minimal package. Weighing less than nine ounces and folding down to the size of your iPhone, it captures breathtaking 12-megapixel stills and 2.7K Quad HD video, beaming back its finds from up to 2.5 miles away and remaining airborne for a max 30 minutes. From a company who continues to revolutionize the consumer drone market with every new release, even longtime vets are being wowed by this one.
True, the size of the Mavic Mini gets all the praise, but its hardware and software updates also deserve note. A three-axis gimbal mechanically stabilizes footage for ultra-smooth playback, while its controller, which utilizes your smartphone as a monitor, includes several programmed flight patterns that, with the tap of a finger, produce Hollywood-level effects to maximize your moments in the air. A GPS-assisted hover feature is also included. If you're not a whiz with Adobe Premiere or Apple's Final Cut, DJI also provides intuitive editing software through its app, which is free to all users.
Finally, we appreciated the Mavic Mini's propeller guards, which provide a safety feature for new pilots still learning the ropes.
Like other great companies, DJI has, with its Mavic Mini, continued to innovate means of making a product more user-friendly and intuitively feature-rich. Its small size allows you to carry a drone with you more often, pilot it easier, and achieve head-turning results with less hassle than ever before.
Every product on Fatherly is independently selected by our editors, writers, and experts. If you click a link on our site and buy something, we may earn an affiliate commission.
This article was originally published on