DJ Khaled Is Now in the… Stroller and Car Seat Business?
His new baby gear product line is a tribute to his 'young kings,' and it's actually pretty great.
by Donna Freydkin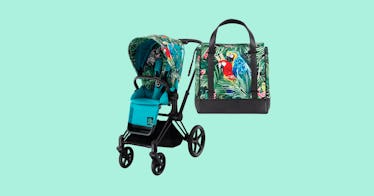 Do you need the new baby gear line mega-producer DJ Khaled just launched with Cybex? Yes, you do, the same way you need a bottle of Macallan Rare Cask whisky. If you're one of those parents for whom a plain travel stroller or discount diaper bag just won't do, then this is your kind of collection. But while this baby gear may be pricey — and may be pricey mainly or entirely because of the DJ Khaled name — it's actually very cool.
Let's back up a minute. DJ Khaled (real name: Khaled Mohamed Khaled) is the brain behind the songs I'm the One and Wild Thoughts, and the dad of sons Asahd and Aalam, with wife Nicole Tuck. We the Best is the second studio album by DJ Khaled. It's also the name of the record label founded by DJ Khaled. And hence, it's also the name of the collection, fully titled Cybex by DJ Khaled We The Best. Yes, it's a mouthful. It's also pretty awesome. The whole line, per the brand's press release, is "a testament to Khaled's young kings." Thus, the strollers, diaper bag, and car seat are colorful and festooned with prints of lions, zebras, and parrots.
As for Cybex, it's a German line that makes some truly innovative strollers, including one that's motorized. Its designs are modern and sleek, without being ridiculously quirky for the sake of being quirky. Yes, the stuff is pricey, but it also lasts forever (or until your kid outgrows it).
Still not sold? "I promise you this is the best stroller experience your kids will ever have. We weren't going to settle for anything less. Our children are the best!" said Khaled in a statement.
Every product on Fatherly is independently selected by our editors, writers, and experts. If you click a link on our site and buy something, we may earn an affiliate commission.
This article was originally published on