Every Backyard Deserves This DIY Flying Saucer Tire Swing
How do you take a tire and turn it into a brightly-colored, LED-lit flying saucer? Easy. Just follow these steps.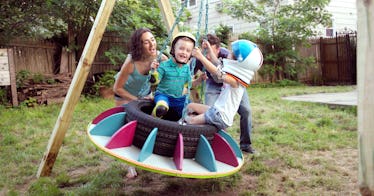 This story is sponsored by Krylon®, the spray paint brand that can easily restore, refresh, recolor, and revive any project.
The tire swing has long been a backyard staple. A rubber donut and three chains powered by the arms and legs of its rider — what's not to love? Well, it is a bit of an eyesore. It is, after all, an old tire hanging from a tree. Before you cut it down for good, try thinking outside the box. With a little imagination, construction know-how, and the bright colors of Krylon® Fusion All-In-One™ paint, you can upgrade your backyard accessory into a backyard centerpiece.
All you need is some plywood, basic tools, and a selection of Krylon® Fusion All-In-One™ paint. It's a family activity everyone will love — especially when you see how cool your UFO looks soaring through the air like a spaceship.
Shopping List
Rubber tire
Three 10- to 12-foot chains
Krylon® Fusion All-In-One™ Colors (Matte Glacier Gray, Satin Rolling Surf, Satin Sangria, and Gloss Jungle Green)
Two 4-by-4-foot sheets of ¾-inch-thick plywood
2-by-4-foot sheet of ¼-inch-thick luan plywood
Fastening bolts
Glue
Masking tape
Measuring tape
Saw
Goggles
Sander/sandpaper
Paper
Pencil
Step One: Get Prepped
If you currently have a tire swing, remove it from the tree, then remove chains from tire. Place the tire on top of a piece of plywood. Trace the perimeter of the tire with a pencil to create a circle on the plywood. Then draw a second circle, 4 inches wider, around the original. Cut out the larger circle with an electric woodcutter and then sand the surface.
Step Two: Make It Pop
Now it's time to add some bright, bold hues because, well, it's more fun that way. Lay the saucer-shaped plywood down in your driveway, garage, or another spot where it's OK for things to get a little messy.
Grab a can of Krylon® Fusion All-In-One™ Matte Glacier Gray. Shake well and spray onto the entire surface of the saucer. Get ready to add even more color in the next step.
Step Three: Add Details
Draw a 4″ x 4″ x 5.65″ triangle on a piece of paper. Cut it out, then trace it 14 times on the second sheet of plywood. Use the electric woodcutter to cut out individual triangles. After you cut your wood, ensure the surface is clean, dull, and dry. Grab your Krylon® Fusion All-In-One™ Satin Rolling Surf and Satin Sangria spray paint, divide triangles into two groups of seven, and coat each group in one of the colors.
Once the "fins" are dry, position them evenly around the edge of the saucer so that the pointed end touches the edge of the circle and the flat edge faces inward. Hold them in place with screws from the bottom of the saucer.
Hang the chains up again from their original spot (or find a tree to attach them to). Give them a coat of Krylon® Fusion All-In-One™ Satin Rolling Surf spray paint.
Step Four: Secure the Saucer
Lay the tire over the plywood circle so that it fits inside the 14 fins. Add a screw from the inside of the tire tread into each plywood fin to secure them in place. Then, from the bottom of the saucer, drill four holes equally spaced up through the plywood and into the rubber tire. Bolt the circle in place.
Step Five: Apply Finishing Touches
Now your UFO is ready to go, but no flying saucer is complete until you've personalized it. Get creative with funky stickers, battery-powered LED lights, and cut-out strips of luan plywood (1/4-inch thick) that you can spray paint with Krylon® Fusion All-In-One™ Gloss Jungle Green to give the base some extra-terrestrial detail. Use extra-strength glue to secure your bells and whistles to the bottom of the saucer, then set aside to dry.
When you're ready, re-attach the tire to the chains, and call the kids out to play. Astronaut helmets and suits are most definitely appropriate. This spaceship is ready to launch!
This article was originally published on