Deal Alert: Green Toys' Popular Trucks, Trains, and Tractors Are Half Off On Amazon Today
Not only are they beautiful to look at, but they're made entirely of recycled milk jugs.
by Dave Baldwin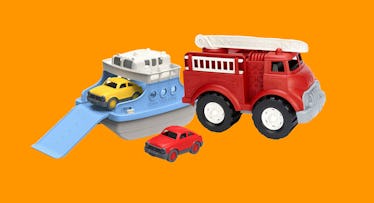 Green Toys' popular line of trucks, trains, and tractors for toddlers aren't just gorgeous to look at ⏤ they're also, as the name suggests, good for the environment. In fact, they're made in the USA entirely out of recycled milk jugs, although you'd never guess by their stylish aesthetic. They encourage imagination, don't use batteries, and are rough-and-tumble enough to play with anywhere. Also, for parents looking to catch a deal, they're more than half off today on Amazon ⏤ including our favorite fire truck, which is marked down from $30 to $10.
The sale includes over 30 items and runs the gamut from mold-free bath toys, infant shape sorters, and fake food sets, to classic dump trucks, beach buckets, and pink corvettes. A few highlights include:
Dish Set
This 24-piece dish set includes four settings of dishwasher-safe plates, cups, bowls, and plastic silverware ⏤ and no BPA or phthalates, so kids can actually eat off them. Regularly $28, it's marked down to $9.
Ferry Boat with Mini Cars
This three-piece ferry boat holds two mini cars and includes a slide-out ramp for unloading when it reaches the other side of the tub.
Green Toys Fire Truck
Rugged, classic, only $10 (which is crazy), Green Toys Fire Truck boasts two removable side ladders and a raising roof ladder that pivots 360 degrees.
Every product on Fatherly is independently selected by our editors, writers, and experts. If you click a link on our site and buy something, we may earn an affiliate commission.
This article was originally published on