What Do Dads Really Want for the Holidays? The Survey Results Are In
Wondering what dad really wants for the holidays? These survey-based results reveal the best holiday gifts for dad you can buy.
by Dylan Love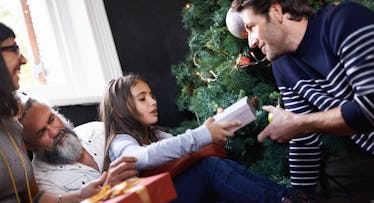 This article was produced with our friends at Dewar's, who celebrate the adventure-embracing spirit of fathers everywhere.
We are rapidly approaching that time of year marked by family togetherness and, yes, presents. Shopping for kids is fun and relatively easy (assuming you can get your hands on a Fingerling), but getting a holiday gift for dad? Fear not. After asking more than 1,100 fathers to identify what they really want for the holidays, we have a damn good idea of what he wants. The general results are clear: dads generally prefer new experiences over new possessions. That said, there are definitely a few material things that will go a long way toward demonstrating your appreciation for him. Whether you choose travel or gadgets and toys, read on to get some holiday gifts guidance.
Gifting experiences
The preference for experiences over things makes sense — what father doesn't want a short-term break from routine? Of all the proposed holiday gifts for dad ideas on our survey, the most popular was a flight to a luxury resort. If you've got the cash, this is a no-brainer that will make everyone smile (yes, you should bring the whole family). Some fathers are also interested in more wild adventures; nearly one-quarter of the men surveyed voted for a guided surfing, hunting, or hiking tour as their gift experience of choice. For a more family-friendly (and budget-conscious) gift, try an after-hours amusement park visit, which piqued the interest of some 18 percent of our respondents.
Send dad somewhere new
Dads want to get out to see new places and hope you'll help them get there. The two standout holiday gifts for dad from the survey are a week-long yacht charter (40 percent of dads voted for this) and an extended stay at a cabin in the woods (30 percent were ready for a wooded getaway). If you're looking to go big, make it unique. For a different kind of boat rental experience, check out Boatbound (the "Airbnb of boats") where you can get sailing in the remote Portuguese island of Madeira. Or upend his thinking on cabins by renting a treehouse hotel like the ones at Sweden's Treehotel for a seriously unique outdoors experience.
You don't necessarily need to spend big money to give dad a vacation he'll love though. Camping, food tours, and visiting relatives are family travel staples for a reason: the classics never go out of style.
The right stuff for dad
Getting out and seeing the world and wilderness is great and all, but so is a brand new 4K television. 27 percent of surveyed dads said they'd like to receive a new television with Bluetooth speakers. When they're not watching Game of Thrones, dads on our survey want to be grilling; 20 percent of survey respondents said they most want a professional grill and smoker this holiday season. Next on the list? A tent with hiking boots, a designer timepiece, and, the holiday gift for dad that never goes out of style, a bottle of aged whiskey. When it comes to how to drink whiskey, the majority of respondents — 41 percent of everyone surveyed — were feeling the holiday spirits, choosing to drink Dewar's 12-year-old blended Scotch (double aged for extra smoothness) on the sofa, neat, surrounded by family with holiday movies on TV. However, nearly one-quarter of those surveyed were a bit more, well, adventurous, noting they would rather be away on vacation, floating in the pool with their whiskey glasses full.
What not to get dad
Our survey unearthed some things that dad would rather you avoid getting for him this year. An overwhelming 61 percent of respondents pointed out that fashion items like shoes, clothing, and jewelry can be safely overlooked. Even when offered a bespoke suit, shirt, tie, vest, and shoes, just 3% of respondents were interested — way less than those who wanted a TV or even a multi-tool. The respondents didn't go so far as to tell us why they'd like to shop for their own clothes, but we blame decades of socks and ties and no one really wanted.
A homemade card and a day off from "dad duty" is a classic holiday gift, too, but one our respondents found more clichéd than heartwarming. Dads on our survey would prefer to keep up with their responsibilities at home, voting for more quality time with kids or a massage from their partner over time off.
This article was originally published on