A Wi-Fi TV, A Baby Translator And 23 Other Wild Reveals From CES 2023
CES is a testing ground for weird, wild, and even groundbreaking tech for geeks — and the rest of us. Here's your guide.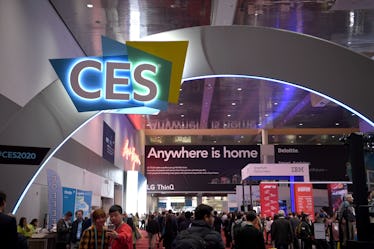 Xinhua News Agency/Xinhua News Agency/Getty Images
Every year, CES, the world's largest consumer electronics show, brings tinkerers, tech giants, and journalists to Las Vegas to get a glimpse of the future. While never entirely prescient, the vision behind the innovations never fails to disappoint. From color-changing cars to Alexa-equipped toilets to the latest in virtual- and augmented-reality gear, there's plenty of pie in the sky tech. But if you look hard enough, you'll find plenty of practical items to take some of the work out of parenting. Here's some of the best, wildest, and, yeah, weirdest tech for dads that were unveiled this year. To the future!
Toys And Other Futuristic Fun
Dog-E Robot Dog
Unlike other robotic pets that have come and gone, each of these robot dogs is one of a kind, thanks to the countless variations of colors and personalities. Each Dog-E robot comes with a specific personality (playful, shy, lazy, always hungry) that slowly reveals itself over time. In addition, each can be trained to do tricks, give kisses, and even "talk" via display text and emojis.
AtmosGear Electric Skates
We've had electric skateboards for a while now, so it stands to reason that electric rollerblades would come down the pike sooner or later. Unlike electric skateboards, however, this offering from AtmosGear is a pair of units that can be attached to any pair of existing rollerblades to add remote control acceleration and braking or passive speed assist. Currently, the units are powered by a cord that attaches to a battery pack that you wear on your back, but if future versions have a wireless setup, this could be a fun way to get around town.
Prinker Digital Temporary Tattoo Printers
Kids freaking love temporary tattoos — but even the high-quality ones aren't very interesting. What if your 7-year-old could print his sister's face on his back (to annoy her)? Conversely, what if you could test drive that ink you've been wanting to get to make sure you really want it? Prinker's temporary tattoos are water-resistant, but unlike their real counterparts, they come off when you scrub them with soap and water, so no regerts.
Hasbro Selfie Series Customizable Action Figures
Hasbro's Selfie Series made a splash at CES this year with its 3D-scanned personalized action figures. Pick the hairstyle and scan the face you'd like action figure-ized, as well as which hero you want your miniature head attached to. Hasbro will turn it into your choice of a Ghostbuster, Power Ranger, Marvel hero, or GI Joe, thanks to 3D printing company Formlab's custom resins, which enable a wide variety of hair and skin colors.
Sony Project Leonardo Controller
Sony is taking a huge step toward video game accessibility with Project Leonardo, a pair of circular controllers designed for use by people with limited mobility. The buttons are customizable to accommodate a range of needs, and the game pads can work both on their own or paired up with a standard controller for assistance from another player.
Arcade1Up Infinity Game Board
A more portable version of the company's Infinity Game Table, this digital game board consolidates your game closet into an 18-inch touchscreen and includes access to about 100 board games, puzzles, and action titles. It'll have classics like Scrabble and Trivial Pursuit as well as newer hits like Pandemic.
Robsen's Flagship Optimus Prime Robot
The closest thing to an actual Autobot that you'll ever own. This pricey robot ($999 for the limited-edition 19-inch version, $599 for the 16-inch), transforms, shadow boxes, plays air guitar, walks around, drives around like an expensive RC car, and responds to voice commands. Users can also upload their custom programming to the app, and if Robosen deems it worthy, they'll make that program available to the public.
Gadgets That Quite Frankly Rule
Babyark Car Seat
Dubbed the world's safest car seat, the Babyark is made of carbon fiber, has a shock absorption system, and is loaded with sensors. It also has 14 sensors embedded in the base of the seat that ping the app if the seat is installed correctly, if the child becomes unbuckled, or if the child is left in the vehicle.
Withings U-Scan Urinalysis Sensor
Yes, this is the pee sensor. Drug-testing jokes aside, there are some innovative, useful features in this toilet bowl-based sensor, including disease scanning and fertility-tracking aspects from which TTC couples could benefit.
King Smith WR-1 Foldable Water Rower
Rowing is one of the lowest-impact (and arguably fun) ways to get your cardio in for the day, but rowers take up a ton of space in your house. Which is why this double-folding water rower from King Smith is so interesting. In addition to using water resistance for a realistic rowing experience, the WR-1 folds down to about 9 inches long, so you can easily roll it out of sight when not in use.
Roku Select And Roku Plus Series TVs
We love Roku because it's so fast and easy to set up; plus, the remote has a plug-in for headphones so you can hear your show without waking up your dozing partner (or kids). Now, Roku is making its own hardware for an even more seamless viewing experience. Hopefully this means that setting up your entertainment center as a whole will be as simple as setting up your Roku box was.
LG M3 Series 97-Inch Wireless OLED TV
LG's 97-inch OLED looks gorgeous, but what makes it truly one of a kind is that it is completely wireless. Yup, this TV gets its beautiful image wirelessly beamed to it from a receiver that you can stash away somewhere in your living room. While there have been wireless TVs in the past, none of them have been able to handle this kind of bandwidth. Hopefully this is a sign that wireless TV technology is becoming more mainstream.
Nowatch Biosensor
One of the coolest watches at CES doesn't tell time at all. Instead, the Nowatch is a biosensor that (among other things) tracks your stress levels as you go about your day and sends subtle tactile feedback to make wearers aware of their stressors and emotional responses throughout the day.
Home Gear For Seriously Wired Houses
Bespoke 4-Door Flex Refrigerator With Family Hub+
Part of Samsung's innovative Bespoke Kitchen project (think, an off-the-shelf dream kitchen, but with better appliances), the latest customizable fridge is simply bonkers. Its four panels come in a variety of colors and its insides are the highest tech fridge you'll find — with a pitcher chilling beverage center, dual ice maker, zoned cooling, and Wi-Fi. Why Wi-Fi? You may have missed the 32-inch high-def screen that's going to need some Internet. (It's bezel-free, so seriously, you may not notice it.) It can do anything a touchscreen computer can. So put on a cooking, fire up some recipes, talk to your grandma, and make sure your fridge is the center of your kitchen.
Schneider Home Energy System
The future is about not arguing with your partner about who left the lights on anymore. This smart home system hooks up to your home and, via machine learning, turns off certain outlets that are draining energy when not in use, among other things. The system can also include a backup power battery if the power goes out as well as a solar power inverter.
Mui Board
Do you need a decorative piece of wood that doubles as a digital bulletin board for your family? No. But do you want one? Absolutely. This natural wood touch display panel blends in to your decor when not in use, but it can be used to send text and voice messages, check the weather or your calendar, and function as a smart home control.
LG Art Cool Gallery
An AC vent unit disguised to look like fine art? Into it. Instead of the eyesores that most wall-mounted AC units present, this new unit from LG has a screen that allows you to display the image of your choice within a customizable frame. And it's got brains as well as looks: In addition to cooling and heating, the low-sound unit can dehumidify a room or crank up the fans for 30 minutes.
Fellow Opus Coffee Grinder
Espresso snobs rejoice: Unlike Fellow's previous offerings, its new, ultra fancy coffee grinder uses conical burrs (go ahead and ask a coffee geek about it) that achieve a fine enough grind for true espresso. Not into espresso? It has 41 settings that can be fine-tuned even further with an inner ring, so you can grind coffee any size you like.
Moen Smart Sprinkler Controller
This new smart irrigation system is designed to reduce water waste (and minimize your workload) by allowing you to set up customized watering schedules and make seasonal adjustments from your phone, Google Assistant, or Amazon Alexa. Apparently, you can add it to your existing system in about 30 minutes.
Hatch Restore 2
This stylish new version of the beloved sunrise alarm clock offers noise-blocking, a wake up system that combines a gradually brightening light to mimic a sunrise with birdsongs, and soothing music and sounds to help you drift off to sleep.
Ring Car Cam
A dash cam is a smart way to have the facts on your side when some idiot sideswipes you on the highway. Ring's new Car Cam also alerts your phone if it senses someone breaking into your car, so you can start recording, even when the car is turned off.
Things That Make Us Go "Hmm..."
Halo Sleep Sure
This smart baby sleep monitor cuff is classic baby wearable overkill. It beams parents more than they'll ever need to know about their infant's nocturnal habits. And while tracking your child's every breath, burp, and heartbeat sounds like it couldn't do any harm — it could. Like we've said before, getting more data than you need is the kind of anxiety-inducing stuff that too often hurts, not helps, parents.
Q-Bear Baby Translator
If this baby translator actually works… wow! But boy, are we skeptical. First of all, in the marketing video for the thing, the infant in the crib has a pillow and blanket. So the manufacturers apparently don't know about SIDS. Second, parents attuning to their infant is an essential part of becoming a parent that, evidence shows, paves the way for investment and love in the future. Third, this is technology that the Simpsons invented first. We don't think this is one of those moments where the cartoon family was ahead of its time.
Gluxkind Ella Stroller
This self-driving stroller won a CES innovation award late last year and is on display, but why? Who needs a stroller that glides and guides itself and has robotic-assisted safety options? Are you really planning on taking your hands off of your stroller while you go for a walk? We wouldn't recommend it. For a hands-free baby carrying experience, we suggest you try a wrap.
Masonite Smart Door
Why get smart locks, smart doorbells, and smart peep-holes when you can blow a ton of money on having them all combined in a replacement door? How about because it's expensive and time-consuming to replace your door. To replace a door with a fiberglass smart lock system? Seems like overkill to us.