The Cybex e-PRIAM Smart Stroller Has An Engine. Yeah, That's Right.
They did it. The crazy bastards finally did it.
by Donna Freydkin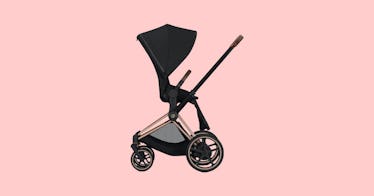 Strollers, like the ever-popular Cybex stroller, are meant to carry kids, sure. But if we're being honest, they're rolling storage racks that also carry diaper bags, giant coffees, and other such parenting essentials. And when loaded up, they're pretty heavy, which makes tackling steep hills or rough terrain a bit more difficult. It's not impossible. But it's a big enough problem for some people that it requires a solution. And that solution is the Cybex e-PRIAM. The high-end stroller is not only kitted out with the high-end features that mark today's luxury prams, but it also features an engine and an array of sensors that all it to move itself up steep terrain. It's basically the e-bike of strollers.
The e-PRIAM has a battery and a switch hidden in the rear axle. Simply deactivate the footbrake and tap the switch with your foot. A row of LEDs will light up to let you know the e-PRIAM is activated.
Once activated, sensors in the handlebar can detect additional pushing pressure — when going uphill — and pulling pressure — when going downhill. Using what Cybex calls Smart Hill Support, an algorithm takes that data and activates the motors to either help you get to the top of the hill or prevent you from going too fast on the way down. The whole thing appears to be extremely smooth, comparable to a pedal-assist bike.
When you come across cobblestones, sand, or other such tricky terrain, the e-PRIAM's Smart Uneven Surface Support performs a similar function, counterbalancing the stroller to make the ride feel smooth.
If you have an existing Cybex Priam stroller and want to retrofit it, you're out of luck. The smart tech only comes with the e-PRIAM frame and is separately certified. And if you don't turn on the power button, the e-Priam works just like a regular stroller.
If you plan to use the e-PRIAM as intended, it takes around six hours to fully charge the battery after you plug the charger into an outlet. Depending on how much weigh your stroller is carrying or how rough the road, a single charge gets you between five and 30 miles. And you can get an electronic boost only up to 6 km/h. If you move faster, the assistance will end. For safety reasons.
The e-PRIAM frame comes in four different colors and can fit a variety of seating devices, including a standard Seat Pack, LUX Carry Cot, and infant car seat. It will be available with a suggested retail price of $1,399.95 at select retail stores in mid-September, but you can preorder it today from Cybex's website.
Every product on Fatherly is independently selected by our editors, writers, and experts. If you click a link on our site and buy something, we may earn an affiliate commission.
This article was originally published on