Cyber Monday: The Best Deals on Toys and Games
No matter how old your kids are or what they're into, you'll find something on this list that will entertain them and save you money.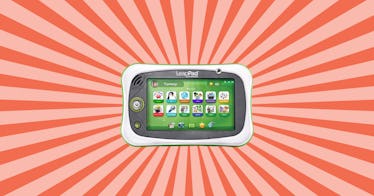 Black Friday and Cyber Monday give parents a chance to get ahead on holiday toys shopping and save some money doing it. Are these important holidays? No. Is it good to raise acquisitive children? Not really. Are you going to end up buying a bunch of toys anyway? Absolutely. Parents who take advantage of the dual shopping celebration not only limit their spend but also their stress. All the more reason to start aggressively hunting for board games, STEM toys, and interactive pets. It might be a bit confusing at first, but the deep dive will prove to be time well spent when the kid is smiling ear to ear.
In an effort to provide a bit of help in these confusing times, the toy and game experts at Fatherly are rounding up the absolute best deals — the ones parents should feel obliged to chase. Here are the best of the bunch….
KidKraft Majestic Mansion: Save 15 percent on KidKraft dollhouses and kitchens at Target, including this four-story over four-feet tall mansion of a dollhouse.
Wonder Workshop Dash: This robot listens to voice commands and features a block-based coding interface designed to teach kids the basics of computer science. Get one for $30 off on Cyber Monday.
Hape Gourmet Grill: Get your kids familiar with the fine art of grilling with this playset, complete with fish, kebabs, sausages, and condiments. It's 30 percent off on Cyber Monday, and much safer than letting your kids man the real grill next summer.
R2-D2 App-Enabled Droid: The Sphero-made R2 toy of your kids' (and, let's face it, your) dreams is just $40 today.
Fingerlings: Choose from three different Fingerling interactive toys for just $10 each.
Nerf Rival Prometheus MXVIII-20K: This beastly Nerf blaster is more than 50 percent off its list price today.
Mega Bloks Big Builders Build 'N Create Block Set: Jet is cutting the price of this 250-piece set of building toys in half.
LeapFrog LeapPad Ultimate: This kid-friendly educational tablet is available at Target for $20 off its normal price.
The ONE Smart Piano: Save $60 on this smart, 61-key piano keyboard that comes with an app. Your kids can use it to learn everything from the basics to more complicated playing.
Nickeloden Slime Kit: Kids love slime, so they'll love this kit, which is $5 off at Walmart.
Learning Resources Gears! Gears! Gears! Super Building Set: This building toy comes with plenty of — you guessed it — gears that can help kids understand some of the basics of engineering. It's almost 50 percent off at Amazon.
Kano Computer Kit: Kids can build, code, and play with their own computer with this kit, and adults can save $50 when you buy it today.
Nerf Laser Ops Alphapoint Pro Two-Pack: One of our favorite toys of the year, Nerf laser tag with app-connected blasters, is $15 cheaper today at Walmart.
Tegu 14-Piece Magnetic Wooden Block Set: These innovative wooden blocks come with integrated magnets that hold them together and make them easy to play with. They're 23 percent off today on Amazon.
FurReal Friends Pax, My Poopin' Pup: Save thirty-four percent on this interactive dog that poops. We're not sure why that's a feature, but kids seem to love them.
Rubik's Cube: This classic puzzle toy is 75 percent off, which brings its price to impulse purchase level.
Don't Step In It: This game of "blindfolded, poop-dodging fun" is just as weird as it sounds, but it's actually a lot of fun and over half off today.
TerraScout Nerf Toy: This toy streams a live video feed to its remote control, allowing kids to aim and fire Nerf darts without even being in the room. It's $80 off today.
Anki Vector: This connected robot is powered by AI and responds to sight, sound, and touch, and it's $75 off today at Amazon.
Every product on Fatherly is independently selected by our editors, writers, and experts. If you click a link on our site and buy something, we may earn an affiliate commission.
This article was originally published on