'Crazy Forts' Helps Kids Build Pillow Forts That Never Fall Down
Even better, you don't have to give up the couch.
by Brendan Charles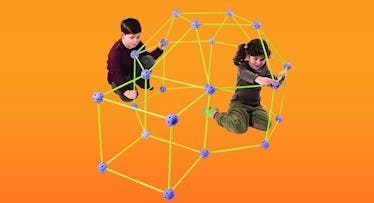 A pillow fort is more than the sum of its parts. Where you see bed sheets, sofa cushions, and pillows, a kid sees a fortress, a castle, a world of adventure and exploration. Unfortunately, in our house, that castle is often a bit saggy. So much so, that my sons quickly tire of fiddling with sheets and move on to sword fighting and other feats of bravery. I always liked the idea of indoor hideouts for kids though, so when my brother bought the boys the Everest Toys Crazy Forts — a kit for building mighty forts — for Christmas, I was hopeful that forts might make a big comeback.
When I first opened the box, it was a little intimidating. Crazy Forts is basically a bunch of rods and balls, not unlike something you would see when you buy a real tent or a container of Tinkertoys. Our oldest immediately began swinging the sticks and pretending to be a superhero while the youngest hurled balls around the room. Needless to say, we were not off to a great start.
After a quick read of the instructions though, I realized it wasn't that tough at all. In fact, construction turned out to be pretty easy. The sticks and balls fit together to build the Crazy Forts' frame, and you can either make one of the included templates ⏤ a house, barn, or castle ⏤ or channel your inner-architect and design your own structure. After that, you just need to cover it with some sheets and … Presto, instant fort! No sagging ceiling, no re-tucking blankets, you can even combine the new structure with a nearby couch or table to give your mega fort more stability and height. Plus, it all glows in the dark, which the kids love at night.
Honestly, my only issue with the kit ⏤ and don't tell my brother ⏤ is that I wish it came with a few more pieces. The $40 Crazy Forts basic set includes 69 pieces (25 balls, 44 sticks) and creates a fort about three-to-four-feet wide, which I'm sure seems huge to the kids, but doesn't leave a lot of room for parents who want to escape to Neverland too. I'm considering buying a second kit just to make larger structures and expand the empire. Our kids also have a tendency to hang on to the frame, causing the occasional collapse and rebuild. This is understandable since the pipes aren't meant to hold anything more than bed sheets ⏤ which, by the way, aren't included.
That said, Crazy Forts is a great way to build hideouts in areas of the house where furniture is scarce. And an even better way to retake parts of the house that have been overwhelmed by giant pillow castles. Not only is it a joy to see our kids hide under the sheets with a flashlight and some books, but also for us to be able to sit on the couch and watch the game without knocking the whole damn thing over.
This article was originally published on