The Coolest New Toys This Year
From ride-on Landspeeders to high-powered spitball blasters, it was a good year to be a kid.
by Aaron Stern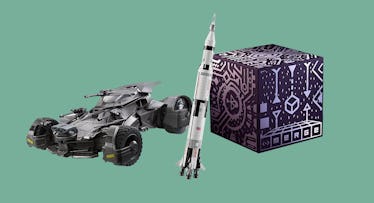 It was a very good year for kids toys. Old companies stepped up their games, both proverbially and literally, while new companies barged onto the scene with fresh, must-play offerings. In some cases, old companies even teamed up with new ones to put a digital spin on classic toys. Kids, whether future engineers or artists, computer programmers or astronauts, had a lot to get excited about.
RELATED: How Today's Modern Toy Makers Get Through to Your Kids
But which new toys were the coolest, most innovative, or attention-grabbing? As opposed, to say, the hottest for holidays? We sifted through thousands and chose our 11 favorites, from a battery-powered version of Luke's Landspeeder in Star Wars to a high-octane R/C Batmobile with a built-in camera, to a plastic blaster that shoots spitballs over 65 feet.
The tike-sized version of Luke Skywalker's X-34 Landspeeder may not levitate, but it does have seats for two, an interactive dashboard with lighted buttons that command intergalactic sound effects, and a max cruising speed of 5 mph ⏤ which makes it fast enough to outrun imaginary Storm Troopers and some real-life pets.
Recoil AR Laser Guns
Recoil turns the backyard into an augmented-reality, first-person shooter game: think laser tag meets HALO. A portable wifi hub creates a localized, GPS-enabled battlefield while infrared-beam blasters (mounted with smartphones) sync to the network to track players' positions (using Bluetooth, wifi, and GPS) and record the combat on screen, right down to health, ammo, and shooting accuracy.
Piper Computer
Piper is a DIY electronics kit for kids that includes everything they need ⏤ display, switches, mouse, a power source, Raspberry Pi 3 computer board ⏤ to both build a computer and program a custom version of Minecraft. The holistic experience is intended to teach both hands-on building chops, as well as problem-solving, critical thinking, and coding skills.
Tied to this summer's Cars 3 release, Ultimate Lightning McQueen from Sphero (the same outfit that brought you BB-8 and R2-D2) is a smiling, speaking, smartphone-controlled race car. It features an LCD screen in the windshield that makes McQueen's anthropomorphized animated eyes not only appear but act expressively, a light sensor that automatically turns on the high beams when it gets dark, and six motors — some of which power the car to speeds upwards of 6 mph. Sphero's also loaded the car with over 300 different phrases.
A new entrant in the rising toys-to-life category of interconnected games, Lightseekers merges a game app with physical action figures and game-enhancing accessories. There's even a standalone card game with augmented-reality features that unlock in-game rewards and abilities. The starter kit includes the card game, an action figure, a weapon, and the FusionCore attachment needed to connect your player to the game.
The Saturn V Rocket was the backbone of NASA's space program during the late 1960s and early 1970s and took Neil Armstrong to the moon. This 3-foot replica includes true-to-life removable rocket stages, a lunar orbiter and lander, and an educational booklet about the manned Apollo moon missions.
This R/C Justice League Batmobile ⏤ which looks like the twisted lovechild of a Joint Light Tactical Vehicle, HALO helmet, and a Stealth bomber ⏤ is drool-worthy. It's controlled by a smartphone app and includes an in-cockpit camera to capture the driver's point of view. It also rocks rotating guns, an exhaust pipe that emits smoke, grumbling engine sounds, and a six-inch action figure. Holy smokes, Batman.
Vaguely resembling a pictographic clue from The Fifth Element, this ornately patterned cube transforms into a hologram ⏤ of a human heart, planets revolving around the sun, a Rubik's Cube ⏤ once the pattern is unlocked by your smartphone camera. It can also be paired with Merge's virtual-reality goggles.
This modern spin on the classic Hot Wheels plastic racetracks is a collaboration between the iconic die-cast toy maker and educational company Osmo and essentially lets real Hot Wheels cars race on screen. The race starts as it would with any traditional Hot Wheels track, by releasing two die-cast cars down the launch pad ramp. The big difference here, however, is that at the bottom of the short track both cars disappear into a tunnel under a docked iPad. When they pass under the tablet's camera (which is covered with a clip-on mirror), the augmented reality kicks in and the cars seemingly jump onto the screen. The race is on.
smART sketcher
Kind of like a reverse overhead projector, this device beams down traceable drawings onto paper, and then your kids trace those outlines. Virtual stencil packs range from farm animals to dinosaurs and outer space themes, as well as language packs that can help sharpen your kids' writing skills. A companion app enables the smART sketcher to project any picture from your smartphone.
Spitball Blasterz
This plastic assault-rifle ⏤ a newer version of Paper Shooters DIY cardboard blaster ⏤ shoots spitballs up to 65 feet. Yes, spitballs. It has a 16-shot clip, comes with 500 rounds, and even includes a mold to enable you to make more pellets from tissue paper.