5 Coolers with Wheels to Make Your Beach Trip So Much Better
Because lugging a non-wheeled cooler from the parking spot to your family's patch of sand is a special type of hell.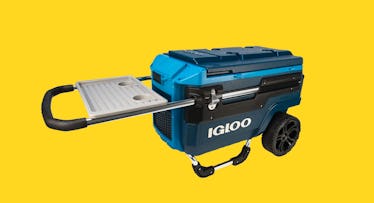 The last thing you want to worry about on a trip to the beach is lugging a cooler from your parking spot to your patch in the sand. You've got kids to worry about and, likely a handful of floats, buckets, umbrellas, and other essentials. Do yourself a favor an invest in a cooler with wheels. These on-the-go haulers keep food and drinks cold, offer a number of nice additional features, and, best of all, can be rolled to your destination. Here are four great beach coolers with wheels and one wagon meant for making non wheeled coolers mobile.
YETI Tundra Haul Portable Wheeled Cooler
YETI's first wheeled cooler is a mobile take on its time-tested Tundra model, and features a sturdy surrounding a central cavity that can keep your sodas and suds ice cold for an absurd eight days. The wheels are impact and puncture resistant, and the welded aluminum handle features a curved design that prevents annoying heel bumps while you tow. And even though the price tag defies you to try roughing it up, its heavy-duty, Rotomolded construction says, "Bring it on!"
Igloo Trailmate Journey
The fully-insulated Ultratherm body and lid will retain ice for four days, and the self-draining cup holders make sure you'll never have to stretch too far for a cold one. The integrated butler tray also features a telescoping handle for serving snacks and drinks, a storage space under the lid, and two ergonomic bottle openers to help you keep the party going past the first, second, and third round of nap times. Plus, the oversized 10-inch wheels are just begging for spinning rims.
RovR RollR
As a purveyor of Dad Jokes, it should be obvious to you why this is a pirate's favorite cooleR. The rotationally-molded body is filled with high-density foam insulation, and secured with strategically placed rubber latches and airtight gaskets, all on top of two tough, 9-inch wheels. The lid also features several anchor pins that allow you to attach various accessories. Anywhere from 40-60 cans and 10-20 lbs. of ice can be neatly arranged in the main compartment, with the dry compartments housing enough room for 4-6 bottles of the hard stuff (or Pedialyte), meats, breads, fruits or veggies. Oh, and it's certified "Grizzly Bear Resistant", too. So, take that, Yogi.
Pelican Elite Wheeled Coolers
Available in 45 or 80 quart models, these cooling crates feature two whole inches of polyurethane insulation with a 360 degree freezer-grade gasket that will keep your food fresh for up to 10 days. Molded handles, three-inch locking latches, and a reinforced lockable hasp offer protection and temperature regulation, while the multi-terrain wheels keep you moving. The dedicated tie-down slots also allow you to strap this thing to the roof of your car.
Multi Purpose Wheeled Cooler Cart
Coolers deserve to be free. So, if you've already got a solid standby, this handy hauler is the perfect all-terrain accessory to take it out for a spin and show it the world. The flatbed frame extends from 31" to 38" to welcome almost every cooler you could ever fill, and the durable resin material won't rust or fade in rain or shine. And, with a solid ground max weight capacity of 300 lbs. and airless rubber foam wheels, you can easily strap down a kid or two if a day at the beach leaves them too tuckered to make it back to the minivan.
This article was originally published on