REMI's A French Alarm Clock That Will Sleep Train Your Toddler
Even better: It's also a baby monitor, sleep tracker, and Bluetooth speaker.
by Dave Baldwin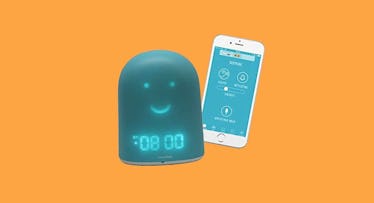 If there's one process that seemingly never ends for new parents, it's sleep training. No sooner do you get your infant to snooze through the night are they suddenly a toddler who won't stop barging in at 5:30 in the morning. And since the quality of your sleep is directly proportional to theirs, keeping them in bed as long as possible is key. The Urban Hello REMI, a colorful French alarm clock with a smiley face, is here to help.
READ MORE: The Fatherly Guide to Sleep
Actually, the Urban Hello REMI is more than just a fanciful kids clock; it's a Bluetooth-enabled baby monitor and sleep coach for ages 'just born' up to 10-years-old. For babies, it acts an audio monitor with a two-way walkie-talkie, adjustable nightlight, and white noise machine that plays lullabies or preprogrammed music. The REMI is also a sleep tracker that monitors an infant's sounds at night and produces a daily report packaged with optimized room conditions and tips to help them snooze longer.
For toddlers, it's all about keeping them in bed. Parents set the child's bedtime routine using the synced smartphone app (although there are actual buttons on the device too) including REMI's facial expressions and whether it plays music as they nod off or wake up. In the morning, REMI's eyes stay shut until the designated time, at which point it'll flash your kid a big smile and they've got the green light to jump on your bed. Or, a pink light as it may be, as REMI comes in one of four colors.
And finally, all's not lost once your kids finally realize staying in bed is preferable to doing chores, as REMI is still, well, an alarm clock. One that lets them play all the Frozen songs whenever the mood strikes.
This article was originally published on